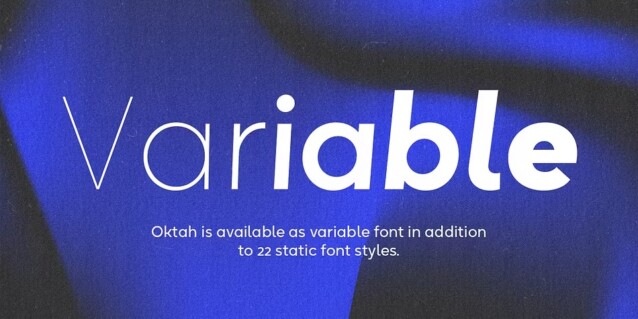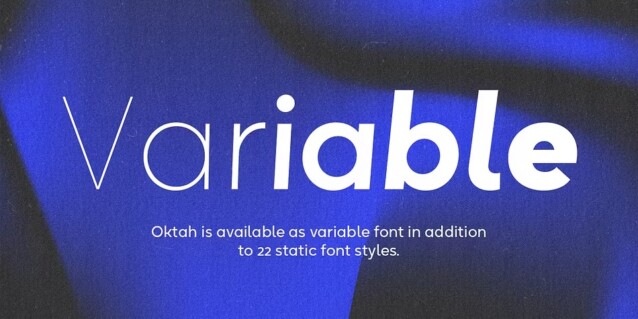 Oktah Font is a cool and authentic sans serif font family that comes in 22 styles: 11 uprights and 11 matching italics, which make it a great tool for those seeking a versatile font with a strong character and high legibility. Throw in a very pleasing look, elegant curves and a wide range of weights, and you'd get what Oktah aspires to be: a perfect typographic tool for every need.
In Oktah, elegant geometric curves meet bold strokes and wide apertures. Round letters are nearly circular, but, to boost readability, slight changes were introduced for optical compensation. Oktah is also equipped with amazing OpenType features: case sensitive punctuation, ligatures, fractions, superscript and subscript figures, two kinds of circular figures, stylistic & contextual alternatives and much more!
Thanks very much to Groteskly Yours. Oktah Font just personal use only, if you need for commercial use and full version please download in here.
View all Glyphs
oktah_bold_italic-BF651105f8a4143.otf
The quick brown fox jumps over the lazy dog
View all Glyphs
oktah_extralight-BF651105f8a1dae.otf
The quick brown fox jumps over the lazy dog
View all Glyphs
Fontspring-DEMO-oktah_black-BF651105f82a58b.otf
The quick brown fox jumps over the lazy dog
View all Glyphs
Fontspring-DEMO-oktah_black_italic-BF651105f762ffc.otf
The quick brown fox jumps over the lazy dog
View all Glyphs
Fontspring-DEMO-oktah_bold-BF651105f81bb94.otf
The quick brown fox jumps over the lazy dog
View all Glyphs
Fontspring-DEMO-oktah_extralight_italic-BF651105f861be5.otf
The quick brown fox jumps over the lazy dog
View all Glyphs
Fontspring-DEMO-oktah_heavy-BF651105f84f5d9.otf
The quick brown fox jumps over the lazy dog
View all Glyphs
Fontspring-DEMO-oktah_heavy_italic-BF651105f847dea.otf
The quick brown fox jumps over the lazy dog
View all Glyphs
Fontspring-DEMO-oktah_light-BF651105f835de8.otf
The quick brown fox jumps over the lazy dog
View all Glyphs
Fontspring-DEMO-oktah_light_italic-BF651105f824c09.otf
The quick brown fox jumps over the lazy dog
View all Glyphs
Fontspring-DEMO-oktah_medium-BF651105f85a9f6.otf
The quick brown fox jumps over the lazy dog
View all Glyphs
Fontspring-DEMO-oktah_medium_italic-BF651105f85d716.otf
The quick brown fox jumps over the lazy dog
View all Glyphs
Fontspring-DEMO-oktah_normal-BF651105f85c457.otf
The quick brown fox jumps over the lazy dog
View all Glyphs
Fontspring-DEMO-oktah_normal_italic-BF651105f85452c.otf
The quick brown fox jumps over the lazy dog
View all Glyphs
Fontspring-DEMO-oktah_regular-BF651105f8625b4.otf
The quick brown fox jumps over the lazy dog
View all Glyphs
Fontspring-DEMO-oktah_regular_italic-BF651105f83b382.otf
The quick brown fox jumps over the lazy dog
View all Glyphs
Fontspring-DEMO-oktah_semibold-BF651105f84ed31.otf
The quick brown fox jumps over the lazy dog
View all Glyphs
Fontspring-DEMO-oktah_semibold_italic-BF651105f83c348.otf
The quick brown fox jumps over the lazy dog
View all Glyphs
Fontspring-DEMO-oktah_thin-BF651105f847de6.otf
The quick brown fox jumps over the lazy dog
View all Glyphs
Fontspring-DEMO-oktah_thin_italic-BF651105f85f818.otf
The quick brown fox jumps over the lazy dog
View all Glyphs
Fontspring-DEMO-oktah_ultralight-BF651105f875ac0.otf
The quick brown fox jumps over the lazy dog
View all Glyphs
Fontspring-DEMO-oktah_ultralight_italic-BF651105f8683af.otf
The quick brown fox jumps over the lazy dog