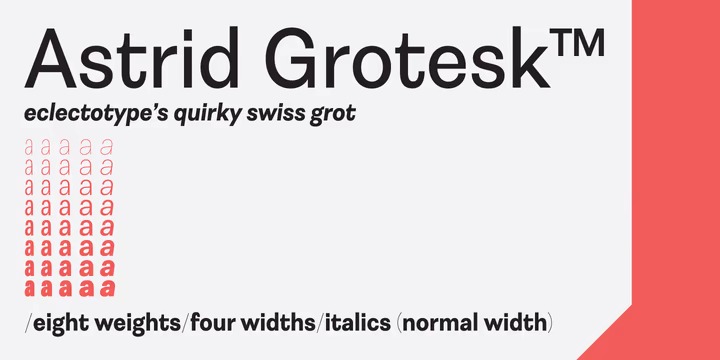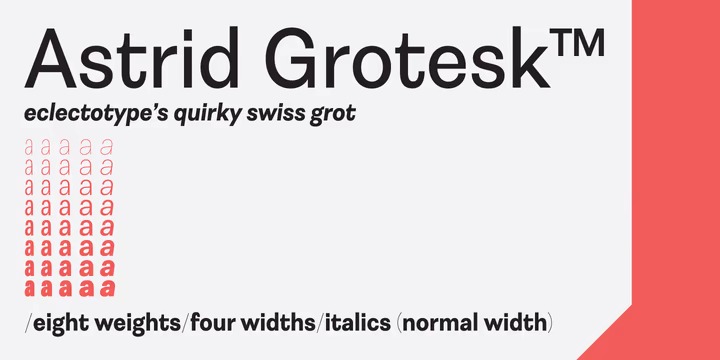 Astrid Grotesk Sans Serif Font
This is a sans serif typeface with details that give typography that has its own characteristics from the thinnest to the thickest that is slightly widened. Where many neo-grotesks appear cold with their harsh neutrality, Astrid has a warmth, eminating from its (for want of a better word) clunkiness. With the latest update, it becomes a true workhorse, with a range of widths and italics for the normal widths.
Astrid Grotesk, while being clearly a neo-grotesk in appearance, has a personality all of its own. Standout characters include the f and t, and the default binocular g, unusual in neo-grotesks. And the right angled terminals on c, e and s. Stylistic sets offer up alternate forms of a, g, y, I, @, dutch IJ, german eszett and l. A full complement of numerals is included: proportional and tabular, lining and oldstyle, plus fractions, subscript and superscript. Note also that the tabular figures are duplexed across weights – very useful when highlighting specific entries in tables. The tabular figures feature also substitutes in fixed width (across all weights) comma and period, so your decimals line up perfectly always. Lastly, case sensitive forms of certain glyphs are included for all-cap settings.
This typeface will be useful for corporate identities and branding work. It's spaced more for text settings in the normal width, and gets more display-optimized as the width decreases, but with careful tracking, all styles can sing at display sizes. Bored of those other Swiss style typefaces? Astrid Grotesk could be the face you need to breathe new life into your designs. Coupled with Schizotype Grotesk, its more eccentric cousin, you've got an unorthodox branding system ready to use straight out of the box.
Thanks very much to Eclectotype. Astrid Grotesk Sans Serif Font just personal use only, if you need for commercial use and full version please download in here.
View all Glyphs
Fontspring-DEMO-astridgrotesk-bd.ttf
The quick brown fox jumps over the lazy dog
View all Glyphs
Fontspring-DEMO-astridgrotesk-bdcn.ttf
The quick brown fox jumps over the lazy dog
View all Glyphs
Fontspring-DEMO-astridgrotesk-bditalic.ttf
The quick brown fox jumps over the lazy dog
View all Glyphs
Fontspring-DEMO-astridgrotesk-bdscn.ttf
The quick brown fox jumps over the lazy dog
View all Glyphs
Fontspring-DEMO-astridgrotesk-bdxcn.ttf
The quick brown fox jumps over the lazy dog
View all Glyphs
Fontspring-DEMO-astridgrotesk-hv.ttf
The quick brown fox jumps over the lazy dog
View all Glyphs
Fontspring-DEMO-astridgrotesk-hvcn.ttf
The quick brown fox jumps over the lazy dog
View all Glyphs
Fontspring-DEMO-astridgrotesk-hvitalic.ttf
The quick brown fox jumps over the lazy dog
View all Glyphs
Fontspring-DEMO-astridgrotesk-hvscn.ttf
The quick brown fox jumps over the lazy dog
View all Glyphs
Fontspring-DEMO-astridgrotesk-hvxcn.ttf
The quick brown fox jumps over the lazy dog
View all Glyphs
Fontspring-DEMO-astridgrotesk-lt.ttf
The quick brown fox jumps over the lazy dog
View all Glyphs
Fontspring-DEMO-astridgrotesk-ltcn.ttf
The quick brown fox jumps over the lazy dog
View all Glyphs
Fontspring-DEMO-astridgrotesk-ltitalic.ttf
The quick brown fox jumps over the lazy dog
View all Glyphs
Fontspring-DEMO-astridgrotesk-ltscn.ttf
The quick brown fox jumps over the lazy dog
View all Glyphs
Fontspring-DEMO-astridgrotesk-ltxcn.ttf
The quick brown fox jumps over the lazy dog
View all Glyphs
Fontspring-DEMO-astridgrotesk-med.ttf
The quick brown fox jumps over the lazy dog
View all Glyphs
Fontspring-DEMO-astridgrotesk-medcn.ttf
The quick brown fox jumps over the lazy dog
View all Glyphs
Fontspring-DEMO-astridgrotesk-meditalic.ttf
The quick brown fox jumps over the lazy dog
View all Glyphs
Fontspring-DEMO-astridgrotesk-medscn.ttf
The quick brown fox jumps over the lazy dog
View all Glyphs
Fontspring-DEMO-astridgrotesk-medxcn.ttf
The quick brown fox jumps over the lazy dog
View all Glyphs
Fontspring-DEMO-astridgrotesk-reg.ttf
The quick brown fox jumps over the lazy dog
View all Glyphs
Fontspring-DEMO-astridgrotesk-regcn.ttf
The quick brown fox jumps over the lazy dog
View all Glyphs
Fontspring-DEMO-astridgrotesk-regitalic.ttf
The quick brown fox jumps over the lazy dog
View all Glyphs
Fontspring-DEMO-astridgrotesk-regscn.ttf
The quick brown fox jumps over the lazy dog
View all Glyphs
Fontspring-DEMO-astridgrotesk-regxcn.ttf
The quick brown fox jumps over the lazy dog
View all Glyphs
Fontspring-DEMO-astridgrotesk-ult.ttf
The quick brown fox jumps over the lazy dog
View all Glyphs
Fontspring-DEMO-astridgrotesk-ultcn.ttf
The quick brown fox jumps over the lazy dog
View all Glyphs
Fontspring-DEMO-astridgrotesk-ultitalic.ttf
The quick brown fox jumps over the lazy dog
View all Glyphs
Fontspring-DEMO-astridgrotesk-ultscn.ttf
The quick brown fox jumps over the lazy dog
View all Glyphs
Fontspring-DEMO-astridgrotesk-ultxcn.ttf
The quick brown fox jumps over the lazy dog
View all Glyphs
Fontspring-DEMO-astridgrotesk-xbd.ttf
The quick brown fox jumps over the lazy dog
View all Glyphs
Fontspring-DEMO-astridgrotesk-xbdcn.ttf
The quick brown fox jumps over the lazy dog
View all Glyphs
Fontspring-DEMO-astridgrotesk-xbditalic.ttf
The quick brown fox jumps over the lazy dog
View all Glyphs
Fontspring-DEMO-astridgrotesk-xbdscn.ttf
The quick brown fox jumps over the lazy dog
View all Glyphs
Fontspring-DEMO-astridgrotesk-xbdxcn.ttf
The quick brown fox jumps over the lazy dog
View all Glyphs
Fontspring-DEMO-astridgrotesk-xlt.ttf
The quick brown fox jumps over the lazy dog
View all Glyphs
Fontspring-DEMO-astridgrotesk-xltcn.ttf
The quick brown fox jumps over the lazy dog
View all Glyphs
Fontspring-DEMO-astridgrotesk-xltitalic.ttf
The quick brown fox jumps over the lazy dog
View all Glyphs
Fontspring-DEMO-astridgrotesk-xltscn.ttf
The quick brown fox jumps over the lazy dog
View all Glyphs
Fontspring-DEMO-astridgrotesk-xltxcn.ttf
The quick brown fox jumps over the lazy dog