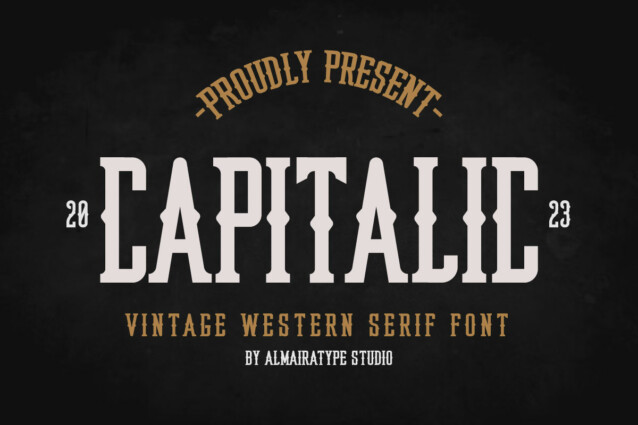 Capitalic Font is a robust and stylish slab serif font that captures the essence of the American Wild West. Its bold, square serifs and strong, confident lines make it a standout choice for projects that require a touch of rugged, western flair. Ideal for headlines, signage, and branding, Capitalic adds a dash of frontier spirit to your designs, all while maintaining a clean, modern look.
PLEASE READ!
This font can only be used for PERSONAL USE. If you want to use this font for COMMERCIAL USE, you must purchase a license that can be used for COMMERCIAL needs.
you can buy in our shop: https://www.creativefabrica.com/designer/almairatype-studio/
if you use this font for COMMERCIAL purposes without purchasing it you may violate the license which will result in a minimum fine of $2999
for other info and licenses contact us [email protected]
BAHASA INDONESIA
HARAP DIBACA!
Font ini hanya dapat digunakan untuk PERSONAL USE. jika anda ingin menggunakan font ini untuk COMMERCIAL USE, anda harus membeli lisensi yang dapat digunakan untuk kebutuhan KOMERSIAL.
anda bisa membeli di toko kami : https://www.creativefabrica.com/designer/almairatype-studio/
jika anda menggunakan fon ini untuk kebutuhan KOMERSIAL tanpa membeli anda dapat melanggar lisensi yang berakibat denda minimal $2999
untuk info dan lisensi lainnya hubungi kami [email protected]