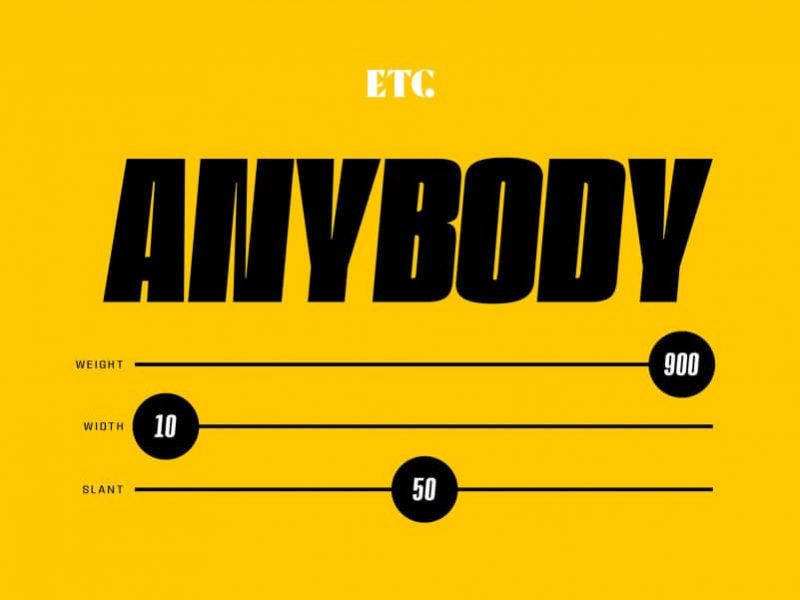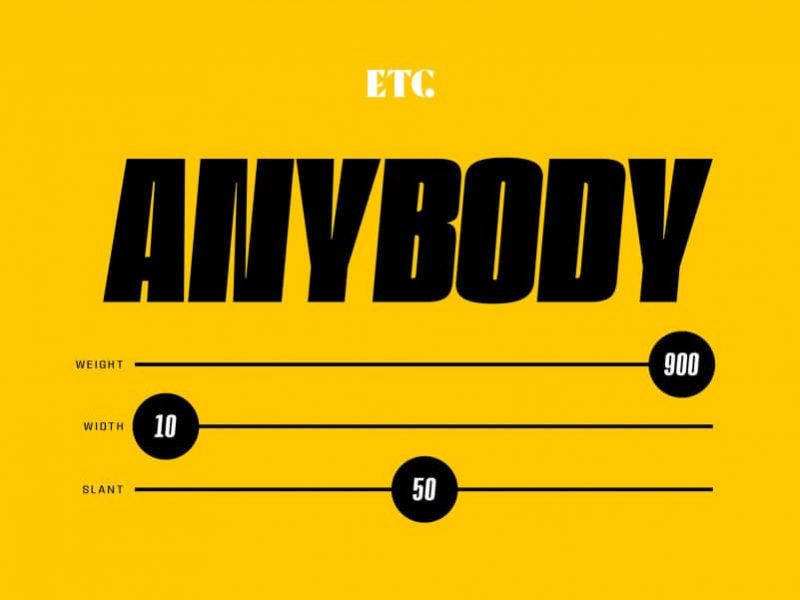 ETC Anybody Font Family is an extended varible width sans serif typeface. The uppercase alphabet in each font / style has been ultra extended to allow for easy customization and creative control of character widths.
It's a mega-family of 72 styles, or whatever custom tweaked style you want with 3 variable axes. It's was released in October of 2018 under the foundry Etcetera Type Company. Variable fonts are still pretty fresh but I love making them. This particular typeface contains 3 axes: weight, width, slant.
Thanks to Tyler Finck. ETC Anybody Font Family is free for personal & commercial use. Please download and enjoy, or can search more similar fonts on befonts.
anybody-black.ttf
The quick brown fox jumps over the lazy dog
Anybody-Bold.ttf
The quick brown fox jumps over the lazy dog
Anybody-Condensed.ttf
The quick brown fox jumps over the lazy dog
Anybody-CondensedBlack.ttf
The quick brown fox jumps over the lazy dog
Anybody-CondensedBold.ttf
The quick brown fox jumps over the lazy dog
Anybody-CondensedExtraLight.ttf
The quick brown fox jumps over the lazy dog
Anybody-CondensedLight.ttf
The quick brown fox jumps over the lazy dog
Anybody-CondensedMedium.ttf
The quick brown fox jumps over the lazy dog
Anybody-CondensedSemiBold.ttf
The quick brown fox jumps over the lazy dog
Anybody-CondensedThin.ttf
The quick brown fox jumps over the lazy dog
Anybody-CondensedUltraBold.ttf
The quick brown fox jumps over the lazy dog
Anybody-CondensedUltraBoldItalic.ttf
The quick brown fox jumps over the lazy dog
Anybody-ExtendedBlack.ttf
The quick brown fox jumps over the lazy dog
Anybody-ExtendedBold.ttf
The quick brown fox jumps over the lazy dog
Anybody-ExtendedExtraLight.ttf
The quick brown fox jumps over the lazy dog
Anybody-ExtendedLight.ttf
The quick brown fox jumps over the lazy dog
Anybody-ExtendedMedium.ttf
The quick brown fox jumps over the lazy dog
Anybody-ExtendedSemiBold.ttf
The quick brown fox jumps over the lazy dog
Anybody-ExtendedThin.ttf
The quick brown fox jumps over the lazy dog
Anybody-ExtendedUltraBold.ttf
The quick brown fox jumps over the lazy dog
Anybody-ExtraLight.ttf
The quick brown fox jumps over the lazy dog
Anybody-Light.ttf
The quick brown fox jumps over the lazy dog
Anybody-Medium.ttf
The quick brown fox jumps over the lazy dog
Anybody-NarrowBlack.ttf
The quick brown fox jumps over the lazy dog
Anybody-NarrowBold.ttf
The quick brown fox jumps over the lazy dog
Anybody-NarrowExtraLight.ttf
The quick brown fox jumps over the lazy dog
Anybody-NarrowLight.ttf
The quick brown fox jumps over the lazy dog
Anybody-NarrowMedium.ttf
The quick brown fox jumps over the lazy dog
Anybody-NarrowSemiBold.ttf
The quick brown fox jumps over the lazy dog
Anybody-NarrowThin.ttf
The quick brown fox jumps over the lazy dog
Anybody-NarrowUltraBold.ttf
The quick brown fox jumps over the lazy dog
Anybody-Regular.ttf
The quick brown fox jumps over the lazy dog
Anybody-SemiBold.ttf
The quick brown fox jumps over the lazy dog
Anybody-SemiBoldItalic.ttf
The quick brown fox jumps over the lazy dog
Anybody-Thin.ttf
The quick brown fox jumps over the lazy dog
Anybody-UltraBold.ttf
The quick brown fox jumps over the lazy dog
Anybody-Wide.ttf
The quick brown fox jumps over the lazy dog
Anybody-WideExtraLight.ttf
The quick brown fox jumps over the lazy dog
Anybody-WideLight.ttf
The quick brown fox jumps over the lazy dog
Anybody-WideMedium.ttf
The quick brown fox jumps over the lazy dog
Anybody-WideSemiBold.ttf
The quick brown fox jumps over the lazy dog
Anybody-WideThin.ttf
The quick brown fox jumps over the lazy dog
Anybody-WideUltraBold.ttf
The quick brown fox jumps over the lazy dog