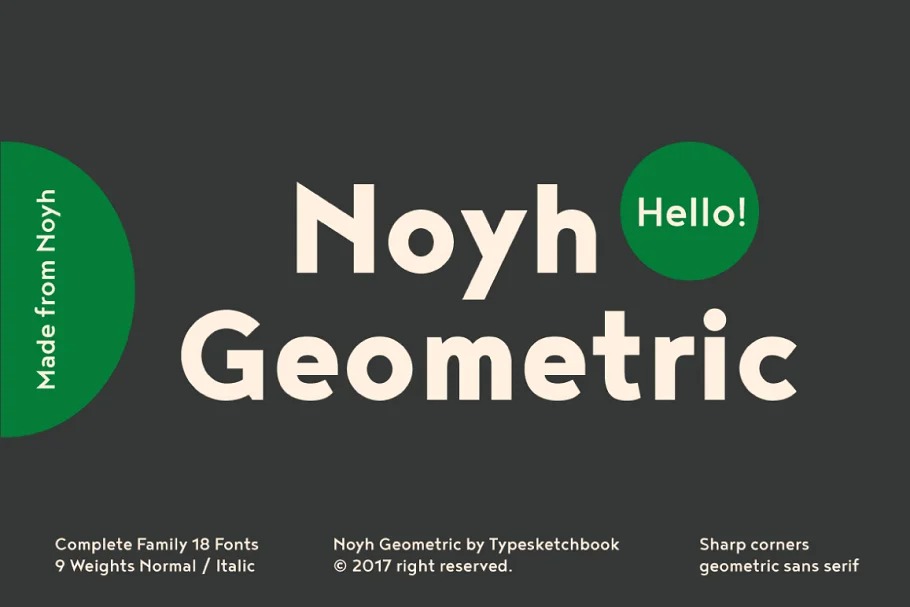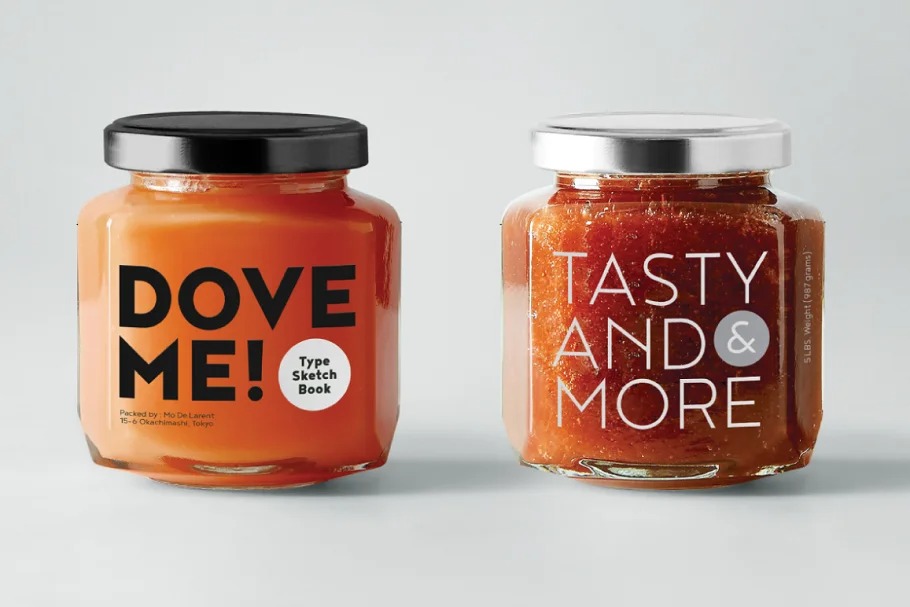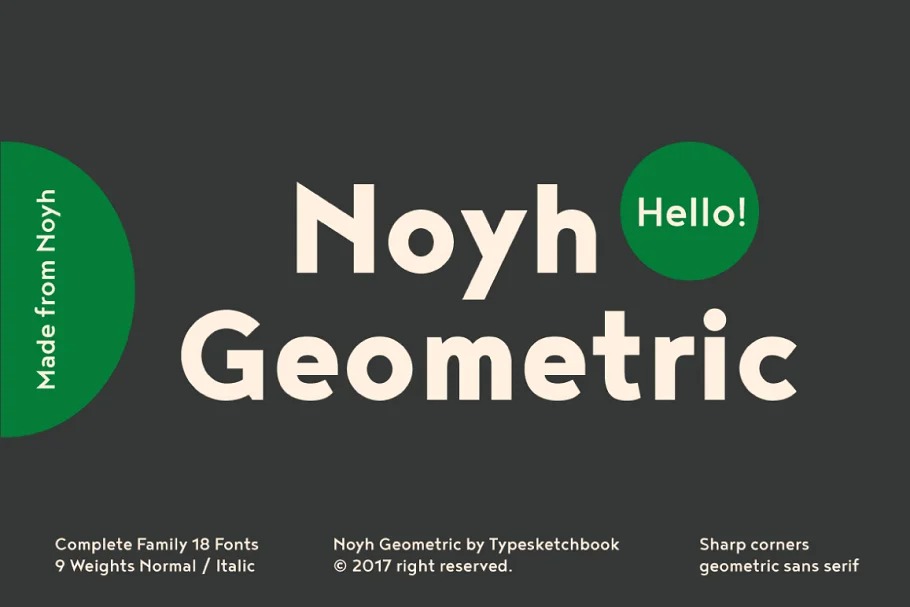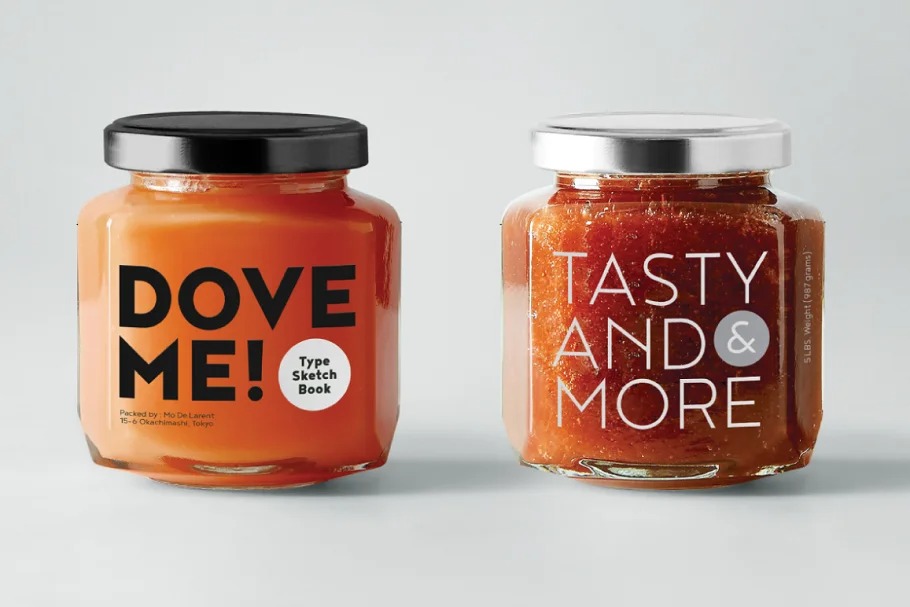 Noyh Geometric Sans Serif Font
It's is a versatile sans serif font family. Strong capitals and a smooth, open lowercase are effective in a variety of applications. We added sharp corners in apex, including the structure of typeface. Import to be more Corporate, the font family has flat terminals that harmonize with sharp corners. With all of these features , "Noyh Geometric" is a prominent, eye-catching and unique typeface. It comes with 9 weights and italic type in order to suit for a multifunctional usage, especially for cooperative work, such as website, magazine, editorial, publishing , as well as packaging.
Thanks to Typesketchbook. Noyh Geometric Sans Serif Font is the demo version, free for personal use only.
Link to purchase full version and commercial license: HERE
View all Glyphs
Fontspring-DEMO-noyhgeometric-black.otf
The quick brown fox jumps over the lazy dog
View all Glyphs
Fontspring-DEMO-noyhgeometric-blackitalic.otf
The quick brown fox jumps over the lazy dog
View all Glyphs
Fontspring-DEMO-noyhgeometric-bold.otf
The quick brown fox jumps over the lazy dog
View all Glyphs
Fontspring-DEMO-noyhgeometric-bolditalic.otf
The quick brown fox jumps over the lazy dog
View all Glyphs
Fontspring-DEMO-noyhgeometric-extltita.otf
The quick brown fox jumps over the lazy dog
View all Glyphs
Fontspring-DEMO-noyhgeometric-extralight.otf
The quick brown fox jumps over the lazy dog
View all Glyphs
Fontspring-DEMO-noyhgeometric-heavy.otf
The quick brown fox jumps over the lazy dog
View all Glyphs
Fontspring-DEMO-noyhgeometric-heavyitalic.otf
The quick brown fox jumps over the lazy dog
View all Glyphs
Fontspring-DEMO-noyhgeometric-italic.otf
The quick brown fox jumps over the lazy dog
View all Glyphs
Fontspring-DEMO-noyhgeometric-light.otf
The quick brown fox jumps over the lazy dog
View all Glyphs
Fontspring-DEMO-noyhgeometric-lightitalic.otf
The quick brown fox jumps over the lazy dog
View all Glyphs
Fontspring-DEMO-noyhgeometric-medium.otf
The quick brown fox jumps over the lazy dog
View all Glyphs
Fontspring-DEMO-noyhgeometric-mediumitalic.otf
The quick brown fox jumps over the lazy dog
View all Glyphs
Fontspring-DEMO-noyhgeometric-regular.otf
The quick brown fox jumps over the lazy dog
View all Glyphs
Fontspring-DEMO-noyhgeometric-semilight.otf
The quick brown fox jumps over the lazy dog
View all Glyphs
Fontspring-DEMO-noyhgeometric-semilightitalic.otf
The quick brown fox jumps over the lazy dog
View all Glyphs
Fontspring-DEMO-noyhgeometric-thin.otf
The quick brown fox jumps over the lazy dog
View all Glyphs
Fontspring-DEMO-noyhgeometric-thinitalic.otf
The quick brown fox jumps over the lazy dog