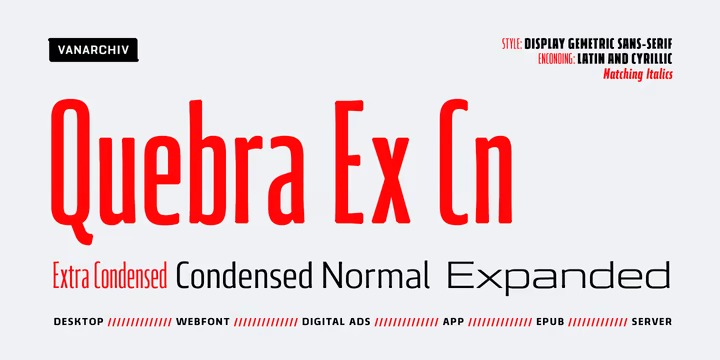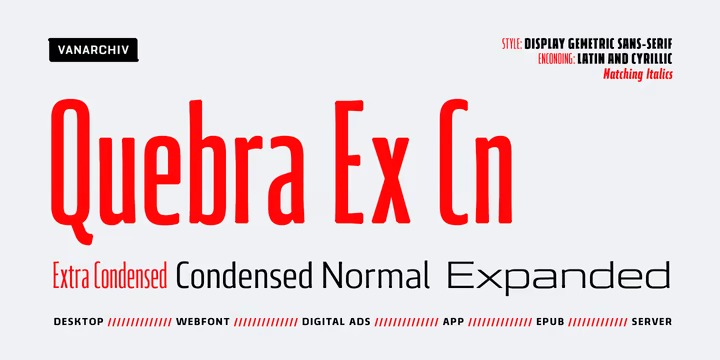 Quebra Ex Cn Sans Serif Font
This font is a sans-serif display family that is monospaced. Made from font designer named Vanarchiv. It's an extend sans-serif font family, available with four widths (Extra Condensed, Condensed, Normal and Expanded) and ten weights, italics versions are available. The main strokes contain small breaks simulating modulated variations on the letterforms, these details are more present on large body sizes. All font versions contain Latin and Cyrillic encoding characters and also ligatures, case-sensitive forms, fractions, oldstyle and finally tabular figures.
Quebra Ex Cn Sans Serif Font free for personal use. Please download and enjoy, or can search more similar fonts on befonts. Link to purchase full version and commercial license Click HERE.
View all Glyphs
Fontspring-DEMO-quebraexcn-bold.otf
The quick brown fox jumps over the lazy dog
View all Glyphs
Fontspring-DEMO-quebraexcn-bolditalic.otf
The quick brown fox jumps over the lazy dog
View all Glyphs
Fontspring-DEMO-quebraexcn-book.otf
The quick brown fox jumps over the lazy dog
View all Glyphs
Fontspring-DEMO-quebraexcn-bookitalic.otf
The quick brown fox jumps over the lazy dog
View all Glyphs
Fontspring-DEMO-quebraexcn-demibold.otf
The quick brown fox jumps over the lazy dog
View all Glyphs
Fontspring-DEMO-quebraexcn-demibolditalic.otf
The quick brown fox jumps over the lazy dog
View all Glyphs
Fontspring-DEMO-quebraexcn-extrabold.otf
The quick brown fox jumps over the lazy dog
View all Glyphs
Fontspring-DEMO-quebraexcn-extrabolditalic.otf
The quick brown fox jumps over the lazy dog
View all Glyphs
Fontspring-DEMO-quebraexcn-extralight.otf
The quick brown fox jumps over the lazy dog
View all Glyphs
Fontspring-DEMO-quebraexcn-extralightitalic.otf
The quick brown fox jumps over the lazy dog
View all Glyphs
Fontspring-DEMO-quebraexcn-italic.otf
The quick brown fox jumps over the lazy dog
View all Glyphs
Fontspring-DEMO-quebraexcn-light.otf
The quick brown fox jumps over the lazy dog
View all Glyphs
Fontspring-DEMO-quebraexcn-lightitalic.otf
The quick brown fox jumps over the lazy dog
View all Glyphs
Fontspring-DEMO-quebraexcn-medium.otf
The quick brown fox jumps over the lazy dog
View all Glyphs
Fontspring-DEMO-quebraexcn-mediumitalic.otf
The quick brown fox jumps over the lazy dog
View all Glyphs
Fontspring-DEMO-quebraexcn-normal.otf
The quick brown fox jumps over the lazy dog
View all Glyphs
Fontspring-DEMO-quebraexcn-semibold.otf
The quick brown fox jumps over the lazy dog
View all Glyphs
Fontspring-DEMO-quebraexcn-semibolditalic.otf
The quick brown fox jumps over the lazy dog
View all Glyphs
Fontspring-DEMO-quebraexcn-ultrabold.otf
The quick brown fox jumps over the lazy dog
View all Glyphs
Fontspring-DEMO-quebraexcn-ultrabolditalic.otf
The quick brown fox jumps over the lazy dog