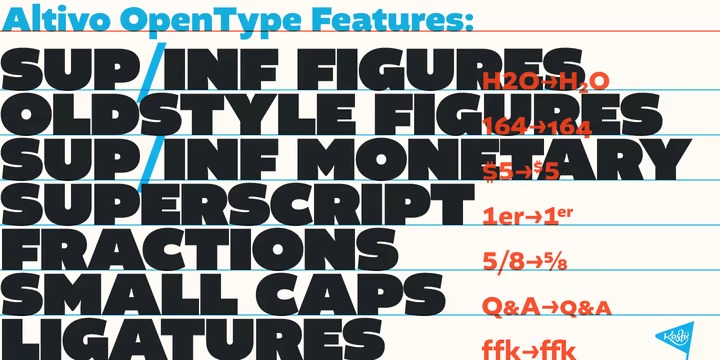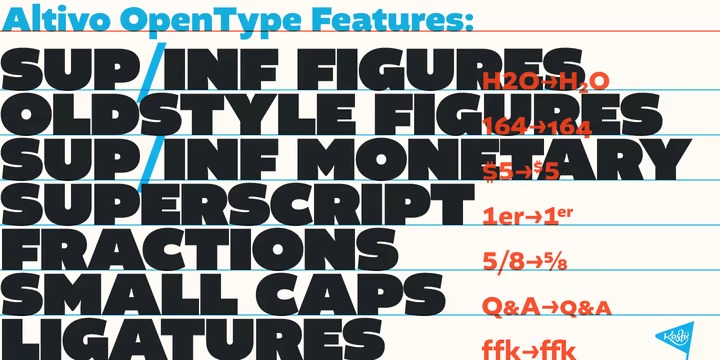 Altivo Sans Serif Font
This is a geometric sans serif font family, it has sharp and soft shapes. Sixteen OpenType fonts in eight weights (with true Italics) range from Thin to Ultra. Meticulous care was taken to ensure high legibility in text sizes on the screen. The typeface is designed to have wide proportions, generous x-height, loose spacing, ink traps, large apertures and low stroke contrast. Altivo's ink traps are not only a functional design feature, they also look interesting and lend character to the typeface in headlines. True Italics, small caps and multiple sets of figures, as well as a complete set of lowercase superscript were all included in the family to accommodate high typographic standards. If you need to pair it with a serif font, you can't go wrong with Chiavettieri, since both typefaces were made with the same basic proportions, and their tabular figures are the same width.
Altivo Sans Serif Font free for personal use. Please download and enjoy, or can search more similar fonts on befonts. Link to purchase full version and commercial license Click HERE.
View all Glyphs
Fontspring-DEMO-altivo-black.otf
The quick brown fox jumps over the lazy dog
View all Glyphs
Fontspring-DEMO-altivo-blackitalic.otf
The quick brown fox jumps over the lazy dog
View all Glyphs
Fontspring-DEMO-altivo-bold.otf
The quick brown fox jumps over the lazy dog
View all Glyphs
Fontspring-DEMO-altivo-bolditalic.otf
The quick brown fox jumps over the lazy dog
View all Glyphs
Fontspring-DEMO-altivo-extralight.otf
The quick brown fox jumps over the lazy dog
View all Glyphs
Fontspring-DEMO-altivo-extralightitalic.otf
The quick brown fox jumps over the lazy dog
View all Glyphs
Fontspring-DEMO-altivo-italic.otf
The quick brown fox jumps over the lazy dog
View all Glyphs
Fontspring-DEMO-altivo-light.otf
The quick brown fox jumps over the lazy dog
View all Glyphs
Fontspring-DEMO-altivo-lightitalic.otf
The quick brown fox jumps over the lazy dog
View all Glyphs
Fontspring-DEMO-altivo-medium.otf
The quick brown fox jumps over the lazy dog
View all Glyphs
Fontspring-DEMO-altivo-mediumitalic.otf
The quick brown fox jumps over the lazy dog
View all Glyphs
Fontspring-DEMO-altivo-regular.otf
The quick brown fox jumps over the lazy dog
View all Glyphs
Fontspring-DEMO-altivo-thin.otf
The quick brown fox jumps over the lazy dog
View all Glyphs
Fontspring-DEMO-altivo-thinitalic.otf
The quick brown fox jumps over the lazy dog
View all Glyphs
Fontspring-DEMO-altivo-ultra.otf
The quick brown fox jumps over the lazy dog
View all Glyphs
Fontspring-DEMO-altivo-ultraitalic.otf
The quick brown fox jumps over the lazy dog