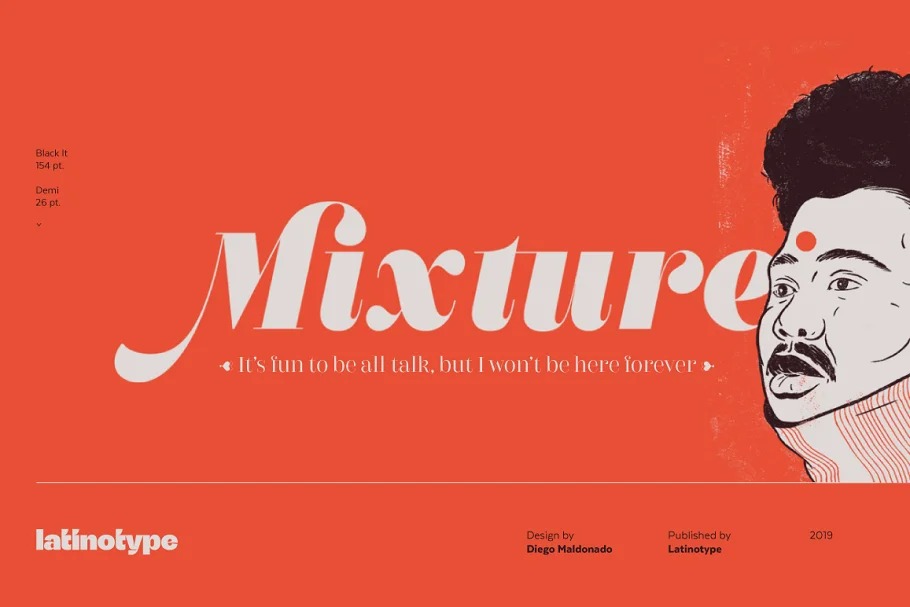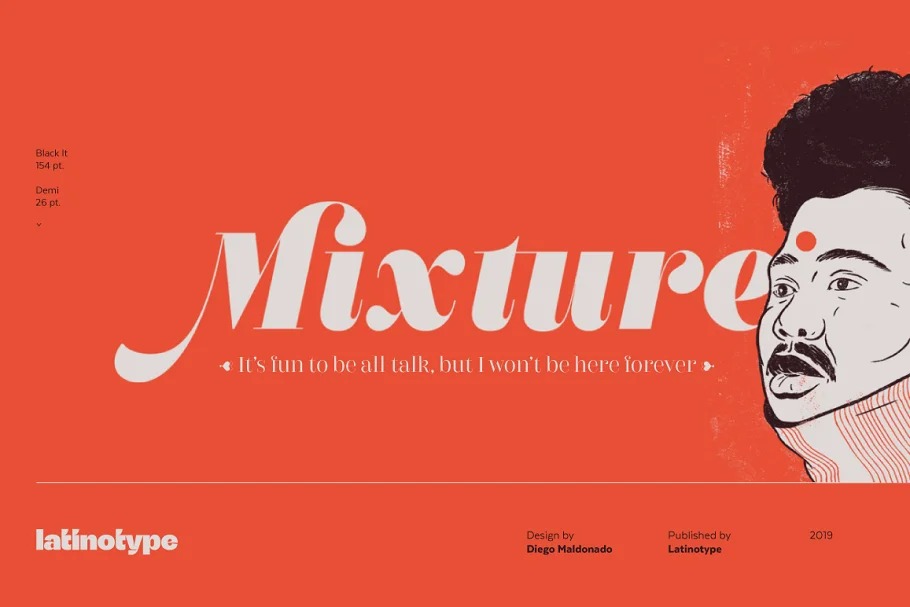 Couturier Poster Serif Font
If you are looking for an bold serif font with flair. Something that can makes your project or design being so special. You better not going to want to miss this one! The Couturier's new cousin has a higher contrast between thin and thick strokes and the family has increased from 8 to 12 styles which are ideal for use at large sizes. Its design—inspired by 18th century Didone typefaces—is heavily influenced by contemporary ideas and makes it suitable for almost anything you can think of.
Couturier Poster comes in 6 weights—from Thin to Black—with matching italics and includes swashes, ligatures, small caps and alternates, which make it a versatile font for a wide range of projects— from the most discreet compositions to showy designs.
Couturier Poster—ideal for use at large text sizes and high impact headlines—matches perfectly with Couturier font; an excellent choice for smaller sizes.
Thanks very much to Latinotype. Couturier Poster Serif Font just personal use only, if you need for commercial use and full version please download in here.
View all Glyphs
Fontspring-DEMO-couturierposter-black.otf
The quick brown fox jumps over the lazy dog
View all Glyphs
Fontspring-DEMO-couturierposter-blackit.otf
The quick brown fox jumps over the lazy dog
View all Glyphs
Fontspring-DEMO-couturierposter-bold.otf
The quick brown fox jumps over the lazy dog
View all Glyphs
Fontspring-DEMO-couturierposter-boldit.otf
The quick brown fox jumps over the lazy dog
View all Glyphs
Fontspring-DEMO-couturierposter-demi.otf
The quick brown fox jumps over the lazy dog
View all Glyphs
Fontspring-DEMO-couturierposter-demiit.otf
The quick brown fox jumps over the lazy dog
View all Glyphs
Fontspring-DEMO-couturierposter-light.otf
The quick brown fox jumps over the lazy dog
View all Glyphs
Fontspring-DEMO-couturierposter-lightit.otf
The quick brown fox jumps over the lazy dog
View all Glyphs
Fontspring-DEMO-couturierposter-regular.otf
The quick brown fox jumps over the lazy dog
View all Glyphs
Fontspring-DEMO-couturierposter-regularit.otf
The quick brown fox jumps over the lazy dog
View all Glyphs
Fontspring-DEMO-couturierposter-thin.otf
The quick brown fox jumps over the lazy dog
View all Glyphs
Fontspring-DEMO-couturierposter-thinit.otf
The quick brown fox jumps over the lazy dog