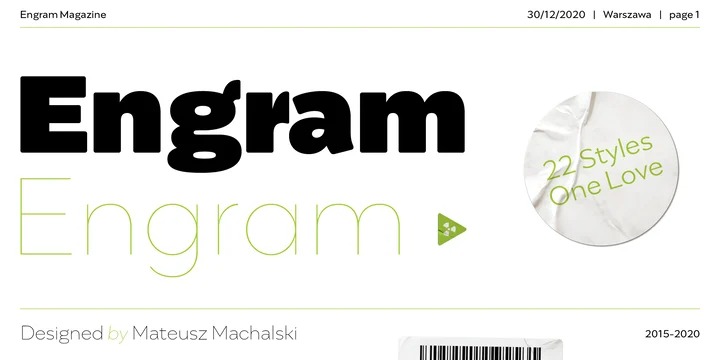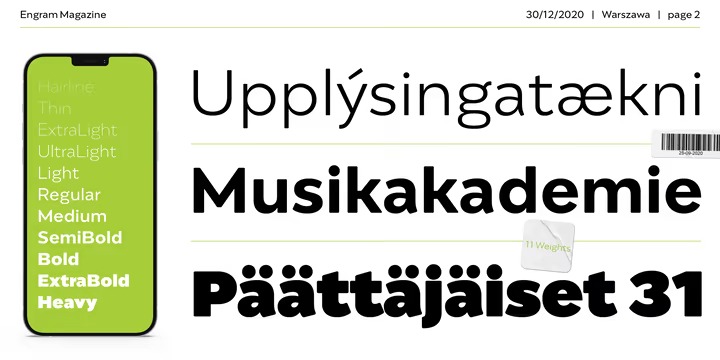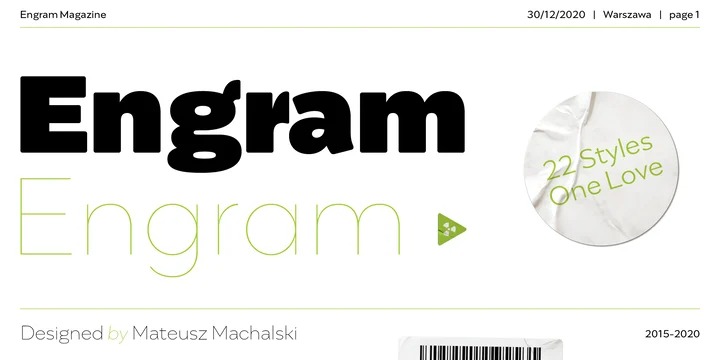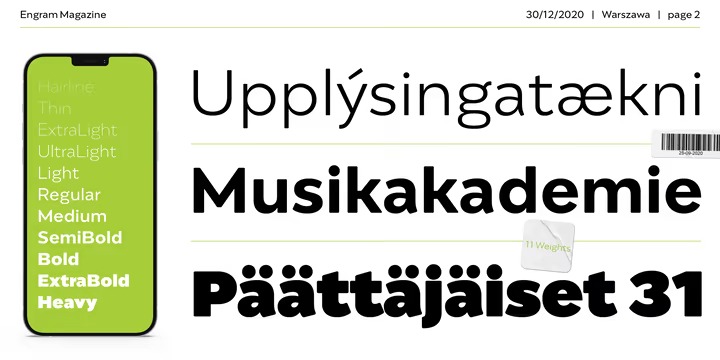 Engram Sans Serif Font
This font is a geometrically-inspired gothic sans serif family that's robust and versatile. This typeface is characterised by a lot of details, which gives it a friendly character. Scalable x height, rounded corners makes Engram good choice for many purposes. All family consist 22 styles with italics from Hairline to Black.
Thanks to Borutta Group for providing us with this exquisite font! However, Engram Sans Serif Font demo is only available for personal use. So, if you want to access more its full features and license, go get the premium version as well!
View all Glyphs
Fontspring-DEMO-engram-bold.otf
The quick brown fox jumps over the lazy dog
View all Glyphs
Fontspring-DEMO-engram-bolditalic.otf
The quick brown fox jumps over the lazy dog
View all Glyphs
Fontspring-DEMO-engram-extrabold.otf
The quick brown fox jumps over the lazy dog
View all Glyphs
Fontspring-DEMO-engram-extrabolditalic.otf
The quick brown fox jumps over the lazy dog
View all Glyphs
Fontspring-DEMO-engram-extralight.otf
The quick brown fox jumps over the lazy dog
View all Glyphs
Fontspring-DEMO-engram-extralightitalic.otf
The quick brown fox jumps over the lazy dog
View all Glyphs
Fontspring-DEMO-engram-hairline.otf
The quick brown fox jumps over the lazy dog
View all Glyphs
Fontspring-DEMO-engram-hairlineitalic.otf
The quick brown fox jumps over the lazy dog
View all Glyphs
Fontspring-DEMO-engram-heavy.otf
The quick brown fox jumps over the lazy dog
View all Glyphs
Fontspring-DEMO-engram-heavyitalic.otf
The quick brown fox jumps over the lazy dog
View all Glyphs
Fontspring-DEMO-engram-italic.otf
The quick brown fox jumps over the lazy dog
View all Glyphs
Fontspring-DEMO-engram-light.otf
The quick brown fox jumps over the lazy dog
View all Glyphs
Fontspring-DEMO-engram-lightitalic.otf
The quick brown fox jumps over the lazy dog
View all Glyphs
Fontspring-DEMO-engram-medium.otf
The quick brown fox jumps over the lazy dog
View all Glyphs
Fontspring-DEMO-engram-mediumitalic.otf
The quick brown fox jumps over the lazy dog
View all Glyphs
Fontspring-DEMO-engram-regular.otf
The quick brown fox jumps over the lazy dog
View all Glyphs
Fontspring-DEMO-engram-semibold.otf
The quick brown fox jumps over the lazy dog
View all Glyphs
Fontspring-DEMO-engram-semibolditalic.otf
The quick brown fox jumps over the lazy dog
View all Glyphs
Fontspring-DEMO-engram-thin.otf
The quick brown fox jumps over the lazy dog
View all Glyphs
Fontspring-DEMO-engram-thinitalic.otf
The quick brown fox jumps over the lazy dog
View all Glyphs
Fontspring-DEMO-engram-ultralight.otf
The quick brown fox jumps over the lazy dog
View all Glyphs
Fontspring-DEMO-engram-ultralightitalic.otf
The quick brown fox jumps over the lazy dog