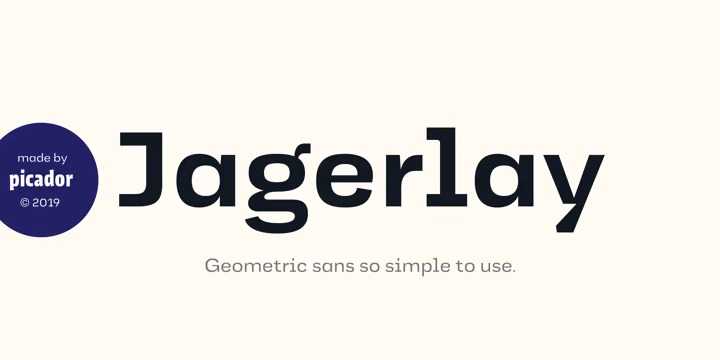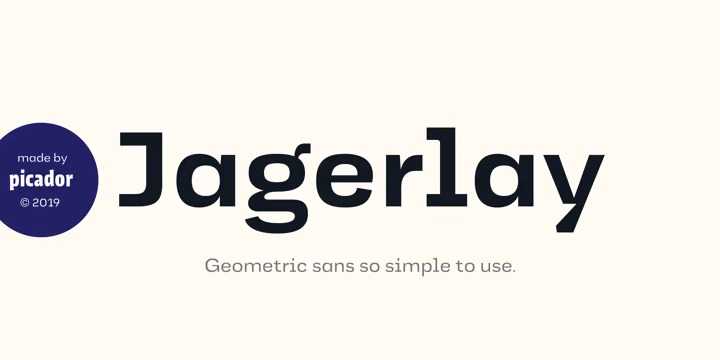 Jagerlay Sans Serif Font
This font is a humanist sans with a subtle thick/thin stress. Its geometric shape and characteristic endings are reminiscent of classic typography from Sci-Fi Movies from the 80's. The simple design makes Jagerlay outstandingly easy to use for every user. Jagerlay pairs with other typefaces in the blink of an eye – it goes well with display, serif or script fonts.
The whole family consists of 9 weights and matching italics. Every style has almost 900 glyphs. Jagerlay has many opentype features such as tabular figures, fractions, superscript and subscript, small caps and arrows. Low contrast makes it easy to read. The rest makes it easy to use.
Thanks very much to ádasdsdf. Jagerlay Sans Serif Font just personal use only, if you need for commercial use and full version please download in here.
View all Glyphs
Fontspring-DEMO-jagerlay-black.otf
The quick brown fox jumps over the lazy dog
View all Glyphs
Fontspring-DEMO-jagerlay-blackitalic.otf
The quick brown fox jumps over the lazy dog
View all Glyphs
Fontspring-DEMO-jagerlay-bold.otf
The quick brown fox jumps over the lazy dog
View all Glyphs
Fontspring-DEMO-jagerlay-bolditalic.otf
The quick brown fox jumps over the lazy dog
View all Glyphs
Fontspring-DEMO-jagerlay-extrabold.otf
The quick brown fox jumps over the lazy dog
View all Glyphs
Fontspring-DEMO-jagerlay-extrabolditalic.otf
The quick brown fox jumps over the lazy dog
View all Glyphs
Fontspring-DEMO-jagerlay-extralight.otf
The quick brown fox jumps over the lazy dog
View all Glyphs
Fontspring-DEMO-jagerlay-extralightitalic.otf
The quick brown fox jumps over the lazy dog
View all Glyphs
Fontspring-DEMO-jagerlay-hairline.otf
The quick brown fox jumps over the lazy dog
View all Glyphs
Fontspring-DEMO-jagerlay-hairlineitalic.otf
The quick brown fox jumps over the lazy dog
View all Glyphs
Fontspring-DEMO-jagerlay-italic.otf
The quick brown fox jumps over the lazy dog
View all Glyphs
Fontspring-DEMO-jagerlay-light.otf
The quick brown fox jumps over the lazy dog
View all Glyphs
Fontspring-DEMO-jagerlay-lightitalic.otf
The quick brown fox jumps over the lazy dog
View all Glyphs
Fontspring-DEMO-jagerlay-medium.otf
The quick brown fox jumps over the lazy dog
View all Glyphs
Fontspring-DEMO-jagerlay-mediumitalic.otf
The quick brown fox jumps over the lazy dog
View all Glyphs
Fontspring-DEMO-jagerlay-regular.otf
The quick brown fox jumps over the lazy dog
View all Glyphs
Fontspring-DEMO-jagerlay-thin.otf
The quick brown fox jumps over the lazy dog
View all Glyphs
Fontspring-DEMO-jagerlay-thinitalic.otf
The quick brown fox jumps over the lazy dog