Migha Sans Serif Font Family
Migha Sans Serif Font is a geometrically constructed sans serif designed for display use. It has a smooth, elegant quality that lends itself to projects based around the themes of beauty and health. It's designed and shared by Seniors Studio. A free display font family designed with a modern and vintage feel. Perfect for any branding, magazine, posters, logos, titles, blogs, and more. The family comes with 6 weights, 4 width, contrast and slant for a total of 96 font files and contains a full set of uppercase, numbers, punctuation and multilingual support.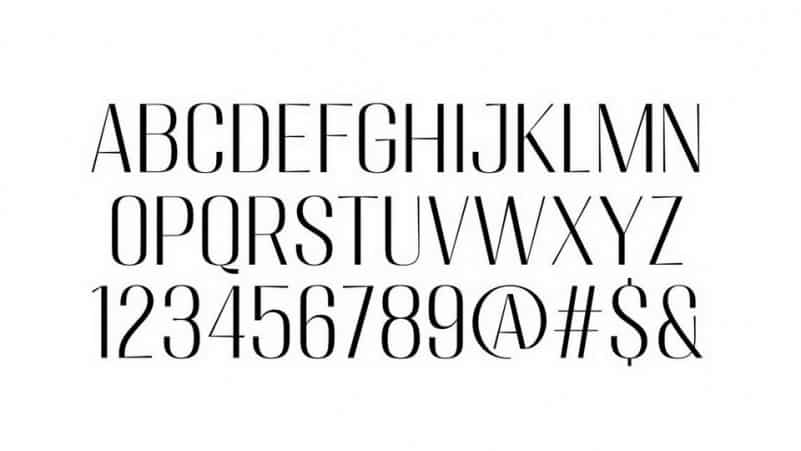 Thanks Seniors Studio for creating such a great font!. Migha Sans Serif Font is free for personal & commercial use. Please download and enjoy, or can search more similar fonts on befonts.
Migha_Variable.ttf
The quick brown fox jumps over the lazy dog
Migha-BlackExpanded.otf
The quick brown fox jumps over the lazy dog
Migha-BlackExpandedCNTR.otf
The quick brown fox jumps over the lazy dog
Migha-BlackExpandedCNTRSlant.otf
The quick brown fox jumps over the lazy dog
Migha-BlackExpandedSlant.otf
The quick brown fox jumps over the lazy dog
Migha-BlackSemExpCNTRSlant.otf
The quick brown fox jumps over the lazy dog
Migha-BlackSemiExpandedCNTR.otf
The quick brown fox jumps over the lazy dog
Migha-BlackSemiExpandedSlant.otf
The quick brown fox jumps over the lazy dog
Migha-BlackCNTR.otf
The quick brown fox jumps over the lazy dog
Migha-BlackCNTRSlant.otf
The quick brown fox jumps over the lazy dog
Migha-BlackSemiExpanded.otf
The quick brown fox jumps over the lazy dog
Migha-BlackSlant.otf
The quick brown fox jumps over the lazy dog
Migha-Black.otf
The quick brown fox jumps over the lazy dog
Migha-BoldExpandedCNTR.otf
The quick brown fox jumps over the lazy dog
Migha-BoldExpandedCNTRSlant.otf
The quick brown fox jumps over the lazy dog
Migha-BoldExpandedSlant.otf
The quick brown fox jumps over the lazy dog
Migha-BoldExpanded.otf
The quick brown fox jumps over the lazy dog
Migha-BoldSemExpCNTRSlant.otf
The quick brown fox jumps over the lazy dog
Migha-BoldSemiExpandedCNTR.otf
The quick brown fox jumps over the lazy dog
Migha-BoldCNTRSlant.otf
The quick brown fox jumps over the lazy dog
Migha-BoldSemiExpanded.otf
The quick brown fox jumps over the lazy dog
Migha-BoldSemiExpandedSlant.otf
The quick brown fox jumps over the lazy dog
Migha-BoldCNTR.otf
The quick brown fox jumps over the lazy dog
Migha-BoldSlant.otf
The quick brown fox jumps over the lazy dog
Migha-Bold.otf
The quick brown fox jumps over the lazy dog
Migha-MediumExpandedCNTRSlant.otf
The quick brown fox jumps over the lazy dog
Migha-MediumExpanded.otf
The quick brown fox jumps over the lazy dog
Migha-MediumExpandedCNTR.otf
The quick brown fox jumps over the lazy dog
Migha-MediumExpandedSlant.otf
The quick brown fox jumps over the lazy dog
Migha-MediumSemiExpandedCNTR.otf
The quick brown fox jumps over the lazy dog
Migha-MediumSemiExpandedSlant.otf
The quick brown fox jumps over the lazy dog
Migha-MedSemExpCNTRSlant.otf
The quick brown fox jumps over the lazy dog
Migha-MediumCNTRSlant.otf
The quick brown fox jumps over the lazy dog
Migha-MediumSemiExpanded.otf
The quick brown fox jumps over the lazy dog
Migha-Medium.otf
The quick brown fox jumps over the lazy dog
Migha-MediumCNTR.otf
The quick brown fox jumps over the lazy dog
Migha-MediumSlant.otf
The quick brown fox jumps over the lazy dog
Migha-ExpandedCNTR.otf
The quick brown fox jumps over the lazy dog
Migha-ExpandedCNTRSlant.otf
The quick brown fox jumps over the lazy dog
Migha-Expanded.otf
The quick brown fox jumps over the lazy dog
Migha-ExpandedSlant.otf
The quick brown fox jumps over the lazy dog
Migha-SemiExpandedCNTRSlant.otf
The quick brown fox jumps over the lazy dog
Migha-SemiExpandedCNTR.otf
The quick brown fox jumps over the lazy dog
Migha-SemiExpandedSlant.otf
The quick brown fox jumps over the lazy dog
Migha-RegularCNTR.otf
The quick brown fox jumps over the lazy dog
Migha-SemiExpanded.otf
The quick brown fox jumps over the lazy dog
Migha-SlantCNTR.otf
The quick brown fox jumps over the lazy dog
Migha-Regular.otf
The quick brown fox jumps over the lazy dog
Migha-Slant.otf
The quick brown fox jumps over the lazy dog
Migha-LightExpandedCNTR.otf
The quick brown fox jumps over the lazy dog
Migha-LightExpandedCNTRSlant.otf
The quick brown fox jumps over the lazy dog
Migha-LightExpandedSlant.otf
The quick brown fox jumps over the lazy dog
Migha-LightExpanded.otf
The quick brown fox jumps over the lazy dog
Migha-LightSemExpCNTRSlant.otf
The quick brown fox jumps over the lazy dog
Migha-LightSemiExpanded.otf
The quick brown fox jumps over the lazy dog
Migha-LightSemiExpandedCNTR.otf
The quick brown fox jumps over the lazy dog
Migha-LightSemiExpandedSlant.otf
The quick brown fox jumps over the lazy dog
Migha-LightCNTR.otf
The quick brown fox jumps over the lazy dog
Migha-LightCNTRSlant.otf
The quick brown fox jumps over the lazy dog
Migha-LightSlant.otf
The quick brown fox jumps over the lazy dog
Migha-Light.otf
The quick brown fox jumps over the lazy dog
Migha-ThinExpandedCNTRSlant.otf
The quick brown fox jumps over the lazy dog
Migha-ThinExpanded.otf
The quick brown fox jumps over the lazy dog
Migha-ThinExpandedCNTR.otf
The quick brown fox jumps over the lazy dog
Migha-ThinExpandedSlant.otf
The quick brown fox jumps over the lazy dog
Migha-ThinSemExpCNTRSlant.otf
The quick brown fox jumps over the lazy dog
Migha-ThinSemiExpanded.otf
The quick brown fox jumps over the lazy dog
Migha-ThinSemiExpandedCNTR.otf
The quick brown fox jumps over the lazy dog
Migha-ThinSemiExpandedSlant.otf
The quick brown fox jumps over the lazy dog
Migha-Thin.otf
The quick brown fox jumps over the lazy dog
Migha-ThinCNTR.otf
The quick brown fox jumps over the lazy dog
Migha-ThinCNTRSlant.otf
The quick brown fox jumps over the lazy dog
Migha-ThinSlant.otf
The quick brown fox jumps over the lazy dog