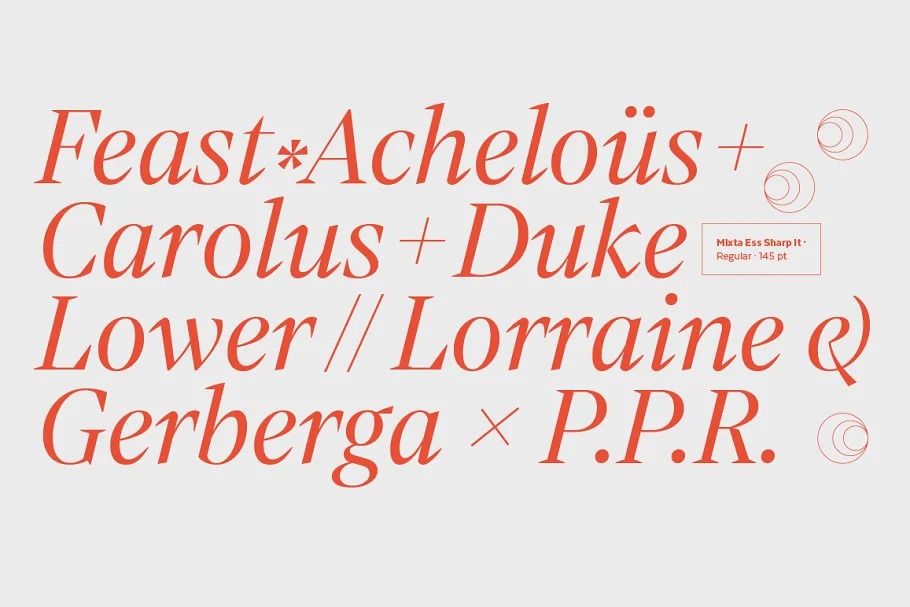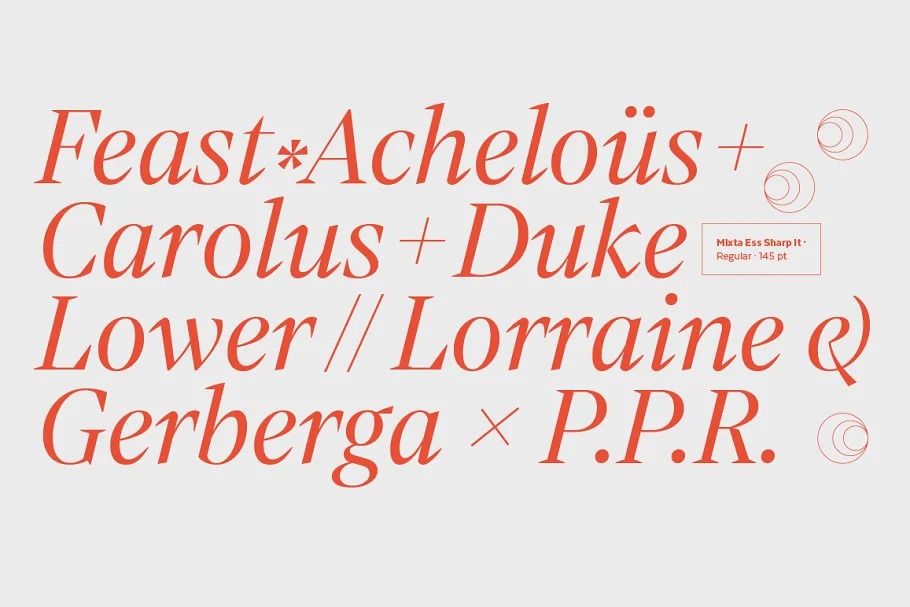 Mixta Ess Serif Font
This is a modern serif font family crafted & designed by Latinotype. This font family consists of 12 different styles. This font was inspired by the idea of mixing different types of terminals in order to give the font a singular appearance. Its design is composed of diverse styles such as Didone and classic typefaces as well as current font trends.
This new essential version of Mixta does not include Cyrillic support, alternate styles or OpenType features. Mixta Essential, with a basic language support, has been adapted for optimal use on macOS and Windows environments.
Mixta Ess Serif Font free for personal use. Please download and enjoy, or can search more similar fonts on befonts. Link to purchase full version and commercial license Click HERE.
View all Glyphs
Fontspring-DEMO-mixtaessdidone-black.otf
The quick brown fox jumps over the lazy dog
View all Glyphs
Fontspring-DEMO-mixtaessdidone-bold.otf
The quick brown fox jumps over the lazy dog
View all Glyphs
Fontspring-DEMO-mixtaessdidone-light.otf
The quick brown fox jumps over the lazy dog
View all Glyphs
Fontspring-DEMO-mixtaessdidone-regular.otf
The quick brown fox jumps over the lazy dog
View all Glyphs
Fontspring-DEMO-mixtaesssharp-black.otf
The quick brown fox jumps over the lazy dog
View all Glyphs
Fontspring-DEMO-mixtaesssharp-bold.otf
The quick brown fox jumps over the lazy dog
View all Glyphs
Fontspring-DEMO-mixtaesssharpit-black.otf
The quick brown fox jumps over the lazy dog
View all Glyphs
Fontspring-DEMO-mixtaesssharpit-bold.otf
The quick brown fox jumps over the lazy dog
View all Glyphs
Fontspring-DEMO-mixtaesssharpit-light.otf
The quick brown fox jumps over the lazy dog
View all Glyphs
Fontspring-DEMO-mixtaesssharpit-regular.otf
The quick brown fox jumps over the lazy dog
View all Glyphs
Fontspring-DEMO-mixtaesssharp-light.otf
The quick brown fox jumps over the lazy dog
View all Glyphs
Fontspring-DEMO-mixtaesssharp-regular.otf
The quick brown fox jumps over the lazy dog