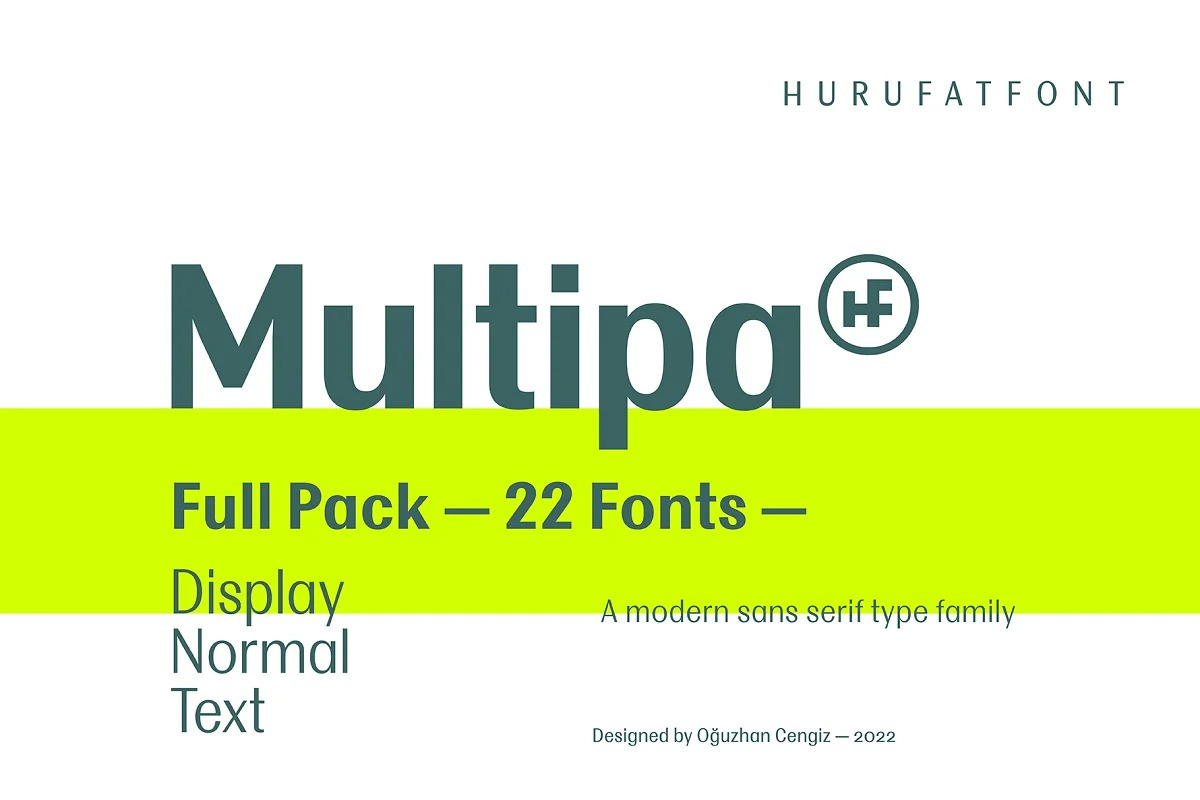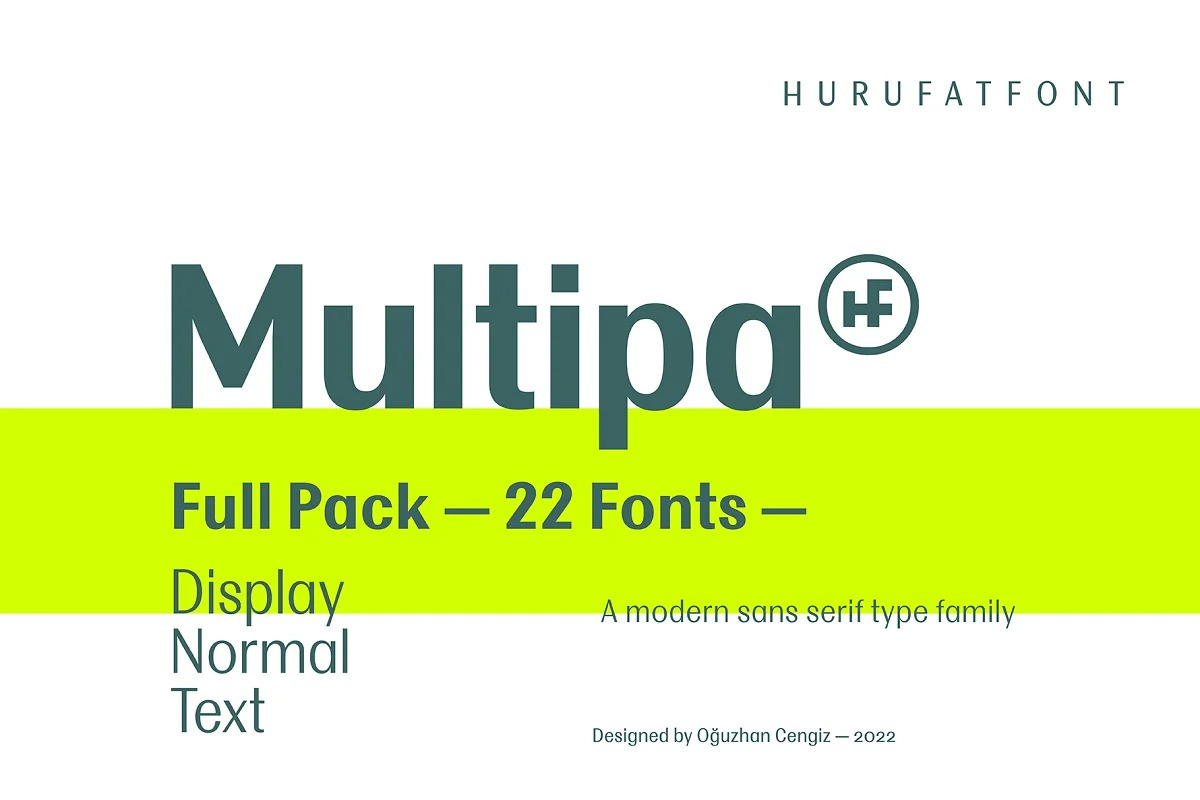 Multipa Sans Serif Font
This is an extremely narrow display sans-serif font family available in 22 weights. Its contrast structure distinguishes it from other sans serif fonts.
Thanks to style sets, letters like t, b, d, k, l are synchronized with capitalization height. It allows you to create powerful typographic designs with body text and heading styles. It is equipped with rich opentype features, style sets and ligatures for professional typography designs.
Ideal for packaging, labels, routing designs, mobile applications, brand designs, logos, all kinds of presentation and editorial designs, indoor and outdoor printing works.
Thanks very much to Hurufatfont. Multipa Sans Serif Font just personal use only, if you need for commercial use and full version please download in here.
View all Glyphs
Fontspring-DEMO-multipa-black.otf
The quick brown fox jumps over the lazy dog
View all Glyphs
Fontspring-DEMO-multipa-bold.otf
The quick brown fox jumps over the lazy dog
View all Glyphs
Fontspring-DEMO-multipa-book.otf
The quick brown fox jumps over the lazy dog
View all Glyphs
Fontspring-DEMO-multipadisplay-black.otf
The quick brown fox jumps over the lazy dog
View all Glyphs
Fontspring-DEMO-multipadisplay-bold.otf
The quick brown fox jumps over the lazy dog
View all Glyphs
Fontspring-DEMO-multipadisplay-extrabold.otf
The quick brown fox jumps over the lazy dog
View all Glyphs
Fontspring-DEMO-multipadisplay-extralight.otf
The quick brown fox jumps over the lazy dog
View all Glyphs
Fontspring-DEMO-multipadisplay-light.otf
The quick brown fox jumps over the lazy dog
View all Glyphs
Fontspring-DEMO-multipadisplay-medium.otf
The quick brown fox jumps over the lazy dog
View all Glyphs
Fontspring-DEMO-multipadisplay-regular.otf
The quick brown fox jumps over the lazy dog
View all Glyphs
Fontspring-DEMO-multipadisplay-thin.otf
The quick brown fox jumps over the lazy dog
View all Glyphs
Fontspring-DEMO-multipa-extrabold.otf
The quick brown fox jumps over the lazy dog
View all Glyphs
Fontspring-DEMO-multipa-extralight.otf
The quick brown fox jumps over the lazy dog
View all Glyphs
Fontspring-DEMO-multipa-heavy.otf
The quick brown fox jumps over the lazy dog
View all Glyphs
Fontspring-DEMO-multipa-light.otf
The quick brown fox jumps over the lazy dog
View all Glyphs
Fontspring-DEMO-multipa-medium.otf
The quick brown fox jumps over the lazy dog
View all Glyphs
Fontspring-DEMO-multipa-regular.otf
The quick brown fox jumps over the lazy dog
View all Glyphs
Fontspring-DEMO-multipatext-bold.otf
The quick brown fox jumps over the lazy dog
View all Glyphs
Fontspring-DEMO-multipatext-light.otf
The quick brown fox jumps over the lazy dog
View all Glyphs
Fontspring-DEMO-multipatext-medium.otf
The quick brown fox jumps over the lazy dog
View all Glyphs
Fontspring-DEMO-multipatext-regular.otf
The quick brown fox jumps over the lazy dog
View all Glyphs
Fontspring-DEMO-multipa-thin.otf
The quick brown fox jumps over the lazy dog