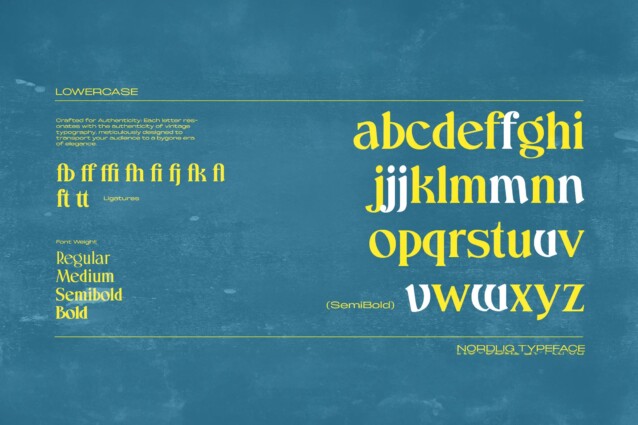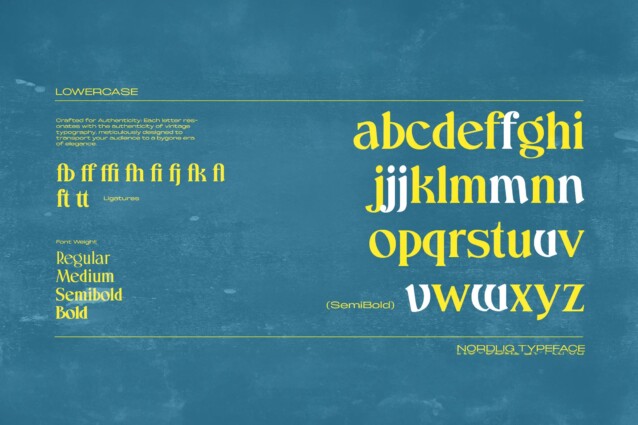 Nordlig Font is a modern and vintage serif display font that looks unique, feminine and give a luxurious feel. Each character carries the essence of an era defined by deliberate lines and distinctive serifs, offering a contemporary take on a classic aesthetic.
An Ode to Nostalgia: Nordlig transports you to a bygone era, infusing your projects with the unmistakable allure of 70s design. It's a font that whispers of nostalgia while maintaining a fresh, relevant appeal.
A Bridge Between Eras: Nordlig seamlessly marries the timeless charm of the 70s with the demands of modern design. It's more than a font; it's a conduit through which the past and present converge, enabling you to create designs that resonate across time.
Elevate your designs with Nordlig, a serif font that not only pays homage to a rich design legacy but also sets a new standard for modern elegance. Embrace the spirit of the 70s with a font that transcends eras, and let your creativity soar. Experience Nordlig today and witness the magic of vintage typography reimagined for the contemporary creator.
Thanks very much to Prominent and Affluent. Nordlig Font just personal use only, if you need for commercial use and full version please download in here.