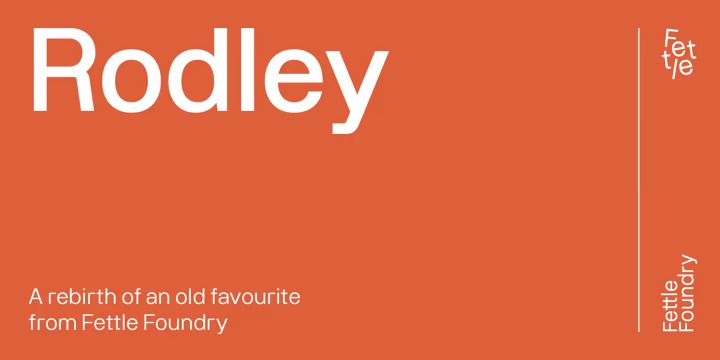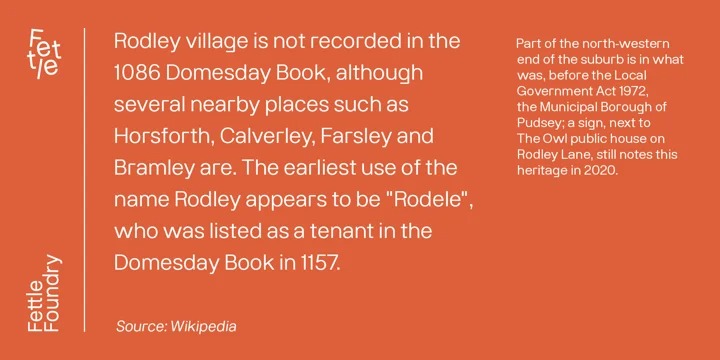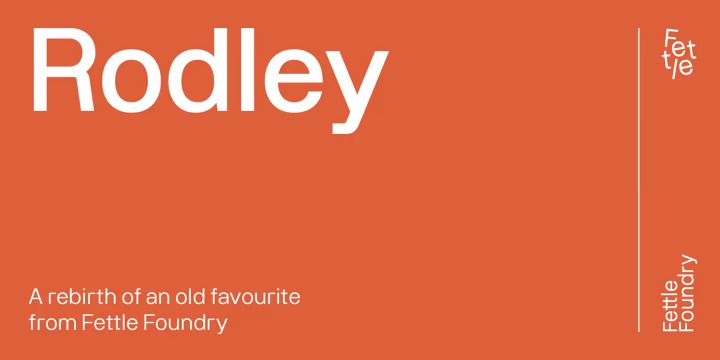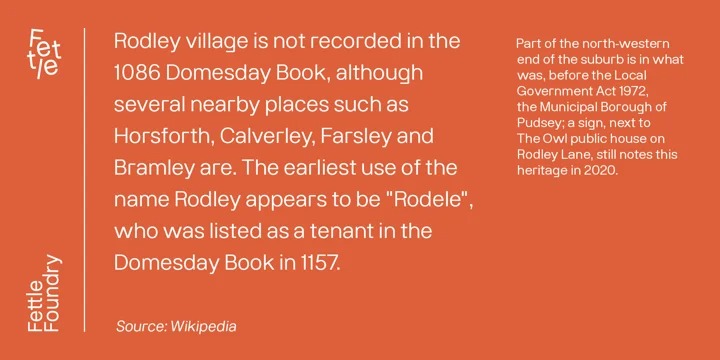 Rodley Sans Serif Font is an unorthodox neo-grotesk typeface devoted to versatility and beauty. With a completely new character set that closer resembles the original vision for that typeface. The changes have been so substantial that Rodley has taken on a life of its own, becoming a brand new typeface.
Inspired by low-contrast Swiss and Modernist grotesque typefaces, with the addition of characterful geometric shapes, Rodley aims to be a more disruptive choice for brands, while retaining the appeal of typefaces in those popular styles.
Based upon a Latin S character set, with additional glyphs, Rodley supports 413 latin-based languages (Source: Hyperglot) with a focus on pan European and South American languages. Thorough kerning has been applied to uppercase/lowercase, uppercase/uppercase, lowercase/lowercase and CamelCase character combinations, with thorough attention paid to an incredibly large number of diacritical combinations.
Rodley Sans Serif Font is provided to you by Fettle Foundry. Free for personal, non-profit use. For commercial use you need to buy a license here 
View all Glyphs
Fontspring-DEMO-rodley-bold.otf
The quick brown fox jumps over the lazy dog
View all Glyphs
Fontspring-DEMO-rodley-bolditalic.otf
The quick brown fox jumps over the lazy dog
View all Glyphs
Fontspring-DEMO-rodley-italic.otf
The quick brown fox jumps over the lazy dog
View all Glyphs
Fontspring-DEMO-rodley-light.otf
The quick brown fox jumps over the lazy dog
View all Glyphs
Fontspring-DEMO-rodley-lightitalic.otf
The quick brown fox jumps over the lazy dog
View all Glyphs
Fontspring-DEMO-rodley-regular.otf
The quick brown fox jumps over the lazy dog
View all Glyphs
Fontspring-DEMO-rodley-semibold.otf
The quick brown fox jumps over the lazy dog
View all Glyphs
Fontspring-DEMO-rodley-semibolditalic.otf
The quick brown fox jumps over the lazy dog
View all Glyphs
Fontspring-DEMO-rodley-thin.otf
The quick brown fox jumps over the lazy dog
View all Glyphs
Fontspring-DEMO-rodley-thinitalic.otf
The quick brown fox jumps over the lazy dog