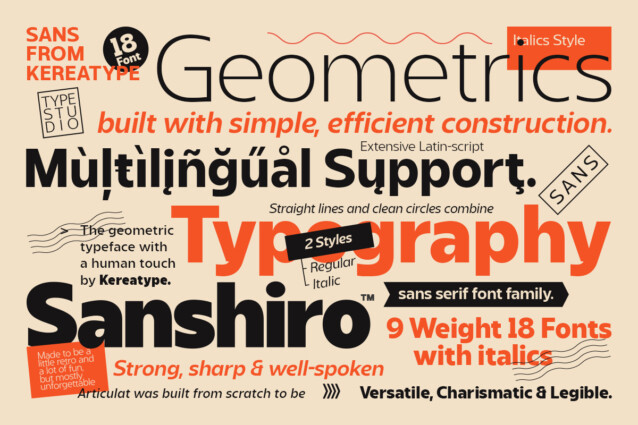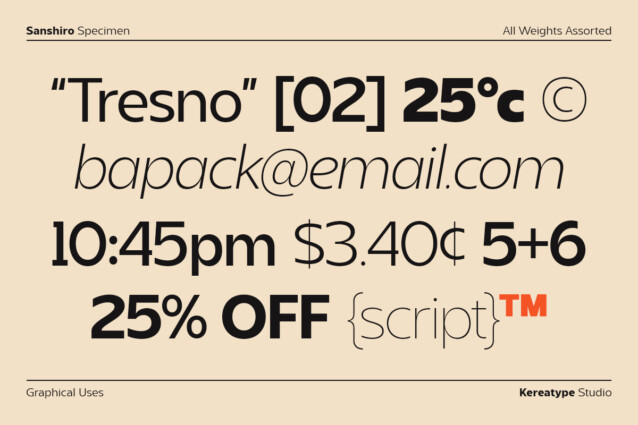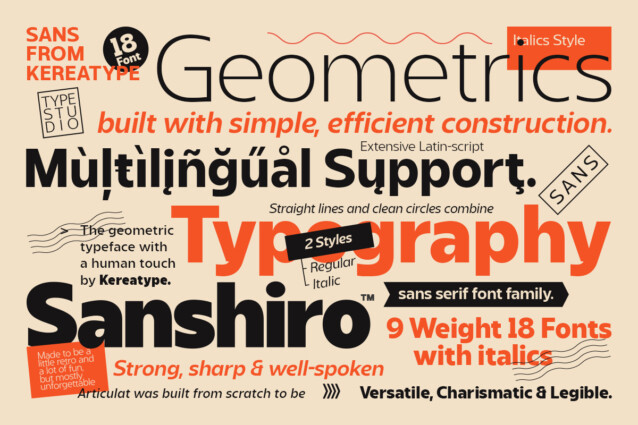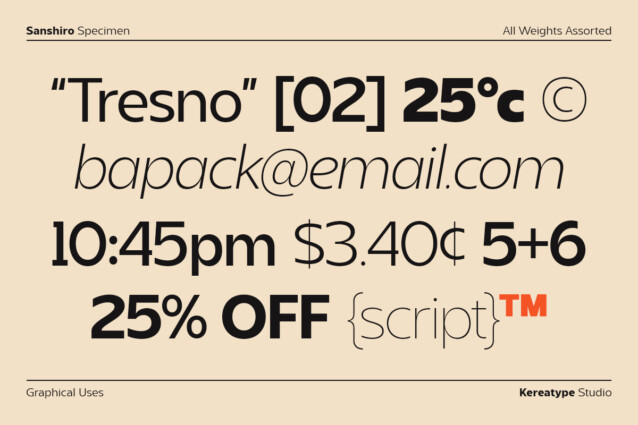 Sanshiro Font is a geometric sans serif font family. Contain 9 weights from Thin to Black with matching Italics. Sanshiro Normal character shapes have optimized proportions and an improved balance perfect to use for text and the heavyweight has a strong character have a unique style with a smooth shape to use for any display.
My fonts for free use are allowed only in personal projects and for testing purposes only.
Any professional or consumer-facing projects require the purchase of a commercial license. If the font will be transmitted or used by a client, the client must purchase an appropriate license.
For commercial license, visit: https://gum.co/sanshiro
For any questions, please send an email to [email protected]
Thank you
CAUTION!
Anyone who uses personal use fonts for commercial needs without buying a commercial license and without permission from the author will be subject to a fine of $5.000
Menggunakan font ini untuk komersil tanpa membeli lisensinya dulu akan dikenakan denda sebesar Rp 30.000.000 (tiga puluh juta rupiah).
View all Glyphs
SanshiroDemo-Black-BF6552b35ba9308.ttf
The quick brown fox jumps over the lazy dog
View all Glyphs
SanshiroDemo-BlackItalic-BF6552b35ba6099.ttf
The quick brown fox jumps over the lazy dog
View all Glyphs
SanshiroDemo-Bold-BF6552b35bb787e.ttf
The quick brown fox jumps over the lazy dog
View all Glyphs
SanshiroDemo-BoldItalic-BF6552b35ba87b5.ttf
The quick brown fox jumps over the lazy dog
View all Glyphs
SanshiroDemo-ExtraBold-BF6552b35b9701a.ttf
The quick brown fox jumps over the lazy dog
View all Glyphs
SanshiroDemo-ExtraBoldItalic-BF6552b35bb8a25.ttf
The quick brown fox jumps over the lazy dog
View all Glyphs
SanshiroDemo-ExtraLight-BF6552b35ab65da.ttf
The quick brown fox jumps over the lazy dog
View all Glyphs
SanshiroDemo-ExtraLightItalic-BF6552b35ab63b6.ttf
The quick brown fox jumps over the lazy dog
View all Glyphs
SanshiroDemo-Italic-BF6552b35b92f8b.ttf
The quick brown fox jumps over the lazy dog
View all Glyphs
SanshiroDemo-Light-BF6552b35b965e1.ttf
The quick brown fox jumps over the lazy dog
View all Glyphs
SanshiroDemo-LightItalic-BF6552b35b99fce.ttf
The quick brown fox jumps over the lazy dog
View all Glyphs
SanshiroDemo-Medium-BF6552b35b97dcc.ttf
The quick brown fox jumps over the lazy dog
View all Glyphs
SanshiroDemo-MediumItalic-BF6552b35baa14f.ttf
The quick brown fox jumps over the lazy dog
View all Glyphs
SanshiroDemo-Regular-BF6552b35b894e8.ttf
The quick brown fox jumps over the lazy dog
View all Glyphs
SanshiroDemo-SemiBold-BF6552b35b9fc5b.ttf
The quick brown fox jumps over the lazy dog
View all Glyphs
SanshiroDemo-SemiBoldItalic-BF6552b35ba6099.ttf
The quick brown fox jumps over the lazy dog
View all Glyphs
SanshiroDemo-Thin-BF6552b35b4dd06.ttf
The quick brown fox jumps over the lazy dog
View all Glyphs
SanshiroDemo-ThinItalic-BF6552b35b8800f.ttf
The quick brown fox jumps over the lazy dog