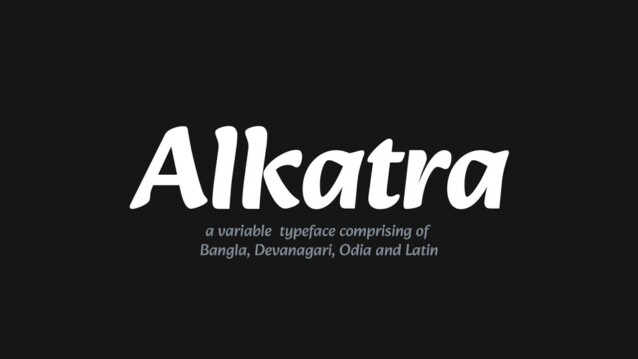 Alkatra Font is an irresistibly adorable, naive display font. It's a display typeface family comprising of Bangla, Devanagari, Odia and Latin.
Each typeface for each script has been designed keeping in mind the inspiration of drawing letters for wall graffitis in Bengal, India, by using a stick and tar. The forms have blobby blackness to it and have been designed for mostly display purposes.
Thanks Suman Bhandary for creating such a great font! Alkatra Font is free for personal & commercial use. Please download and enjoy, or can search more similar fonts on befonts.
View all Glyphs
Alkatra-Bold-BF651b8aa728cda.ttf
The quick brown fox jumps over the lazy dog
View all Glyphs
Alkatra-Medium-BF651b8aa74a843.ttf
The quick brown fox jumps over the lazy dog
View all Glyphs
Alkatra-Regular-BF651b8aa766770.ttf
The quick brown fox jumps over the lazy dog
View all Glyphs
Alkatra-SemiBold-BF651b8aa6ee1fc.ttf
The quick brown fox jumps over the lazy dog
View all Glyphs
Alkatra-VariableFont_wght-BF651b8aa79be2e.ttf
The quick brown fox jumps over the lazy dog