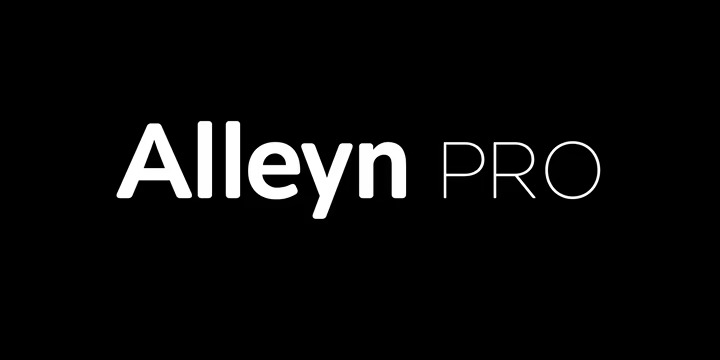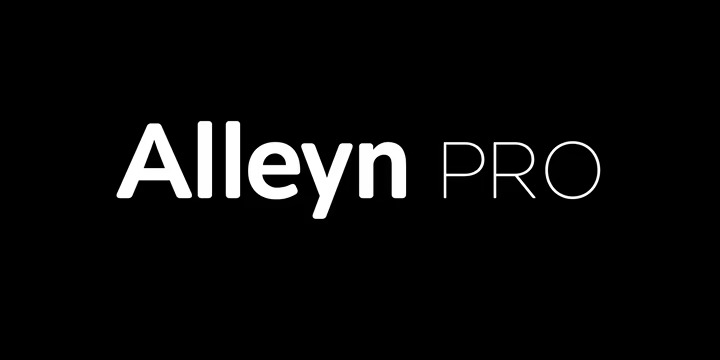 Alleyn Pro Sans Serif Font
This is a geometric sans serif font family, a combination of straight lines and perfect circles. Alleyn Pro is a re-working of the font Alleyn in response to a request to increase the character set and include Vietnamese. The fonts now cover most Latin languages, Greek and many Cyrillic languages – apparently around 275 in total. The letters have been redrawn and re-proportioned and the spacing recalculated to make for better reading at text sizes.
Alleyn Pro has been developed to meet the needs of publishers, companies and individuals addressing a wide international market in a range of publishing media. The low contrast, slightly rounded sans-serif letterform with six weights and corresponding obliques provides a friendly and highly legible set of styles which are equally effective on signage, packaging, advertising and editorial.
This is the demo version. Alleyn Pro Sans Serif Font free for personal use. For the full version and commercial purposes, please visit here
View all Glyphs
Fontspring-DEMO-alleynpro-black.otf
The quick brown fox jumps over the lazy dog
View all Glyphs
Fontspring-DEMO-alleynpro-blackoblique.otf
The quick brown fox jumps over the lazy dog
View all Glyphs
Fontspring-DEMO-alleynpro-bold.otf
The quick brown fox jumps over the lazy dog
View all Glyphs
Fontspring-DEMO-alleynpro-boldoblique.otf
The quick brown fox jumps over the lazy dog
View all Glyphs
Fontspring-DEMO-alleynpro-book.otf
The quick brown fox jumps over the lazy dog
View all Glyphs
Fontspring-DEMO-alleynpro-bookoblique.otf
The quick brown fox jumps over the lazy dog
View all Glyphs
Fontspring-DEMO-alleynpro-light.otf
The quick brown fox jumps over the lazy dog
View all Glyphs
Fontspring-DEMO-alleynpro-lightoblique.otf
The quick brown fox jumps over the lazy dog
View all Glyphs
Fontspring-DEMO-alleynpro-medium.otf
The quick brown fox jumps over the lazy dog
View all Glyphs
Fontspring-DEMO-alleynpro-mediumoblique.otf
The quick brown fox jumps over the lazy dog
View all Glyphs
Fontspring-DEMO-alleynpro-oblique.otf
The quick brown fox jumps over the lazy dog
View all Glyphs
Fontspring-DEMO-alleynpro-regular.otf
The quick brown fox jumps over the lazy dog