Boring Sans Font Family
This is a modern sans serif font family. A clean modern sans serif that's on the heavier side. Use this bold chunky font for creating impactful titles and headlines. Introducing Boring Font! It's was designed by Cosimo Pancini and published by Zetafonts. It's a typeface family designed along two variable axis: weight and weirdness. These two parameters allow designers to explore a full range of variations on sans serif design, starting from a neutral set of proportions and evolving to a strongly contrasted and dynamic treatment, ready to raise eyebrows on social media.
The basic "A" subfamily, developed in five weights plus italics, behaves like a traditional, solid workhorse sans serif, with finely tuned proportions for optimal readability and minimal emotional impact. The "B" subfamily, developed in the same ten weights, shows a more contemporary "brutal" approach, with slanted lines, deep ink traps and stronger contrast. All these features are brought to the extreme in the ten weights of the "C" subfamily, with each letter a bombastic show of exuberant weirdness. Each of the style variant is developed in five weight with matching italics, with a glyph set covering extended latin languages and including many alternate forms and stylistic sets.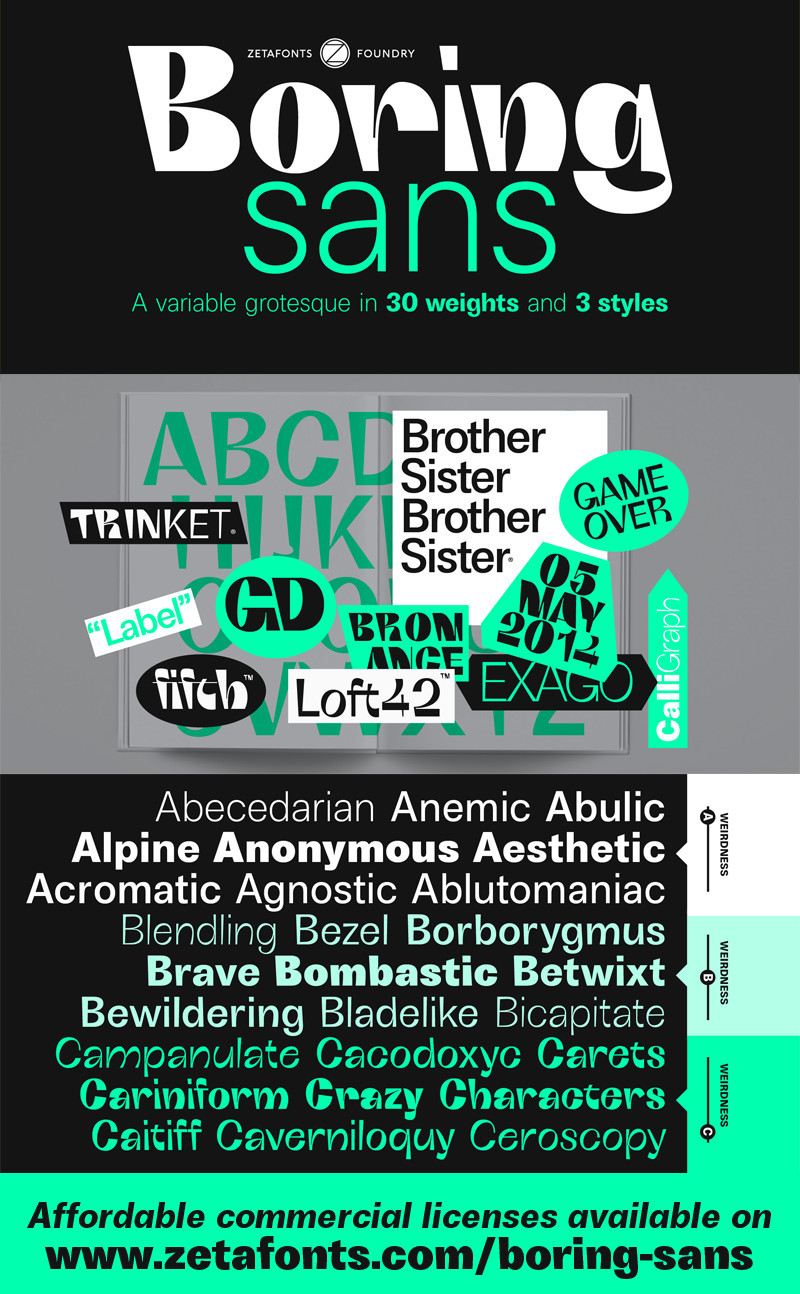 This is the DEMO version. Boring Sans Serif Family free for personal use. Please download and enjoy, or can search more similar fonts on befonts.
Link to purchase full version and commercial license here
boring-sans-a-bold-trial.ttf
The quick brown fox jumps over the lazy dog
Boring-Sans-A-Bold-Italic-trial.ttf
The quick brown fox jumps over the lazy dog
Boring-Sans-A-Heavy-Italic-trial.ttf
The quick brown fox jumps over the lazy dog
Boring-Sans-A-Heavy-trial.ttf
The quick brown fox jumps over the lazy dog
Boring-Sans-A-Italic-trial.ttf
The quick brown fox jumps over the lazy dog
Boring-Sans-A-Light-Italic-trial.ttf
The quick brown fox jumps over the lazy dog
Boring-Sans-A-Light-trial.ttf
The quick brown fox jumps over the lazy dog
Boring-Sans-A-Medium-Italic-trial.ttf
The quick brown fox jumps over the lazy dog
Boring-Sans-A-Medium-trial.ttf
The quick brown fox jumps over the lazy dog
Boring-Sans-A-Regular-trial.ttf
The quick brown fox jumps over the lazy dog