Gabana Display Font Family
Gabana Display Font Family is an incredibly Unique and Interesting Display Font that is absolutely great for your next creative project. A free primarily a display typeface referencing the typography from early 80s with characteristic of thick bold letterforms and clean cuts. The word Gabana (of African origin) means 'a child with courage and determination.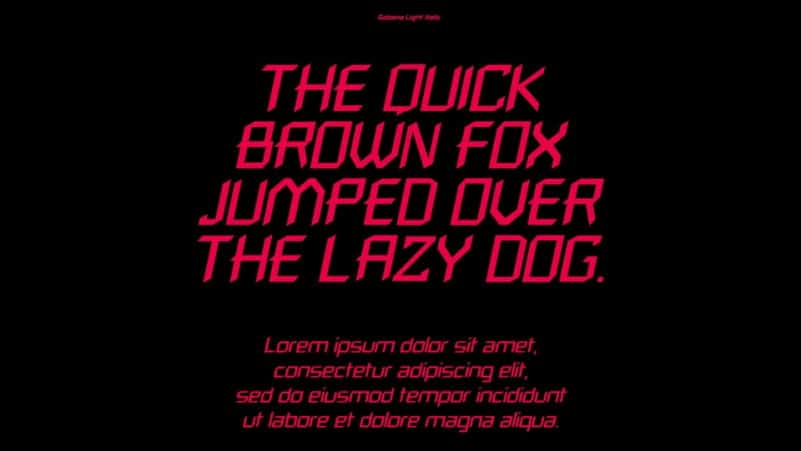 Thanks Supratik Saha for creating such a great font!. Gabana Display Font is free for personal & commercial use. Please download and enjoy, or can search more similar fonts on befonts.
Gabana-BoldExpanded.ttf
The quick brown fox jumps over the lazy dog
Gabana-RegularExpanded.ttf
The quick brown fox jumps over the lazy dog
Gabana-RegularCondensedItalic.ttf
The quick brown fox jumps over the lazy dog
Gabana-LightCondensedItalic.ttf
The quick brown fox jumps over the lazy dog
Gabana-BoldCondensedItalic.ttf
The quick brown fox jumps over the lazy dog
Gabana-LightCondensed.ttf
The quick brown fox jumps over the lazy dog
Gabana-RegularCondensed.ttf
The quick brown fox jumps over the lazy dog
Gabana-BoldCondensed.ttf
The quick brown fox jumps over the lazy dog
Gabana-LightItalic.ttf
The quick brown fox jumps over the lazy dog
Gabana-RegularItalic.ttf
The quick brown fox jumps over the lazy dog
Gabana-BoldItalic.ttf
The quick brown fox jumps over the lazy dog
Gabana-Black.ttf
The quick brown fox jumps over the lazy dog
Gabana-Light.ttf
The quick brown fox jumps over the lazy dog
Gabana-Regular.ttf
The quick brown fox jumps over the lazy dog
Gabana-Bold.ttf
The quick brown fox jumps over the lazy dog