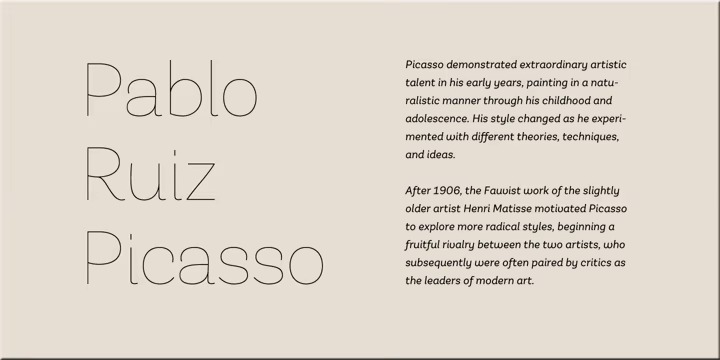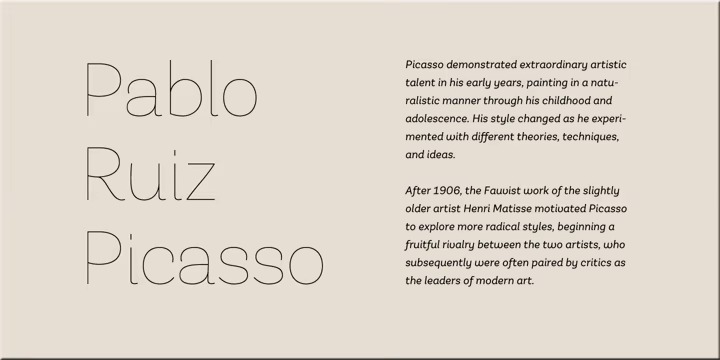 Hastrico DT Sans Serif Font
It's a fresh, geometric, sans-serif font family. Hastrico DT Font is made up of 14 fonts, including 7 weights and weight balanced oblique variations, which makes it an incredibly versatile typeface for all kinds of projects in print, web, video, you name it. Better yet, combine Hastrico DT with virtually any display typeface to create a totally new look!
Thanks very much to DTP Types. Hastrico DT Sans Serif Font just personal use only, if you need for commercial use and full version please download in here.
View all Glyphs
Fontspring-DEMO-hastricodt-bold.otf
The quick brown fox jumps over the lazy dog
View all Glyphs
Fontspring-DEMO-hastricodt-bolditalic.otf
The quick brown fox jumps over the lazy dog
View all Glyphs
Fontspring-DEMO-hastricodt-extrabold.otf
The quick brown fox jumps over the lazy dog
View all Glyphs
Fontspring-DEMO-hastricodt-extrabolditalic.otf
The quick brown fox jumps over the lazy dog
View all Glyphs
Fontspring-DEMO-hastricodt-extralight.otf
The quick brown fox jumps over the lazy dog
View all Glyphs
Fontspring-DEMO-hastricodt-extralightitalic.otf
The quick brown fox jumps over the lazy dog
View all Glyphs
Fontspring-DEMO-hastricodt-italic.otf
The quick brown fox jumps over the lazy dog
View all Glyphs
Fontspring-DEMO-hastricodt-light.otf
The quick brown fox jumps over the lazy dog
View all Glyphs
Fontspring-DEMO-hastricodt-lightitalic.otf
The quick brown fox jumps over the lazy dog
View all Glyphs
Fontspring-DEMO-hastricodt-medium.otf
The quick brown fox jumps over the lazy dog
View all Glyphs
Fontspring-DEMO-hastricodt-mediumitalic.otf
The quick brown fox jumps over the lazy dog
View all Glyphs
Fontspring-DEMO-hastricodt-regular.otf
The quick brown fox jumps over the lazy dog
View all Glyphs
Fontspring-DEMO-hastricodt-thin.otf
The quick brown fox jumps over the lazy dog
View all Glyphs
Fontspring-DEMO-hastricodt-thinitalic.otf
The quick brown fox jumps over the lazy dog