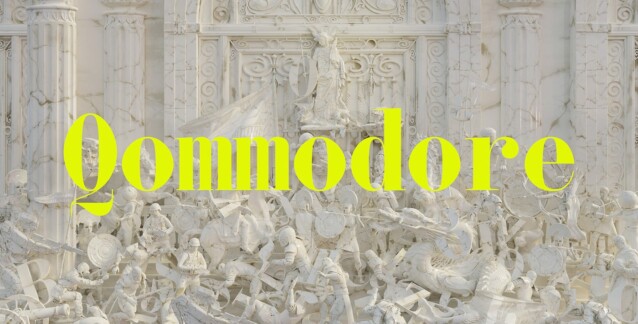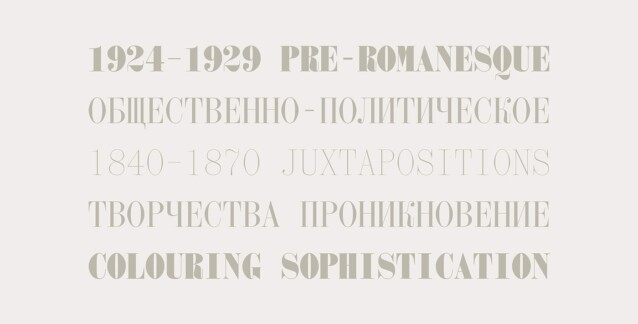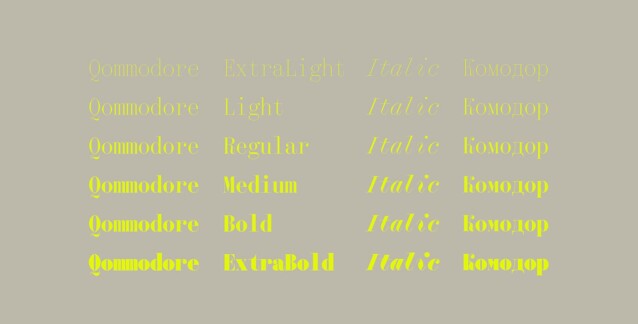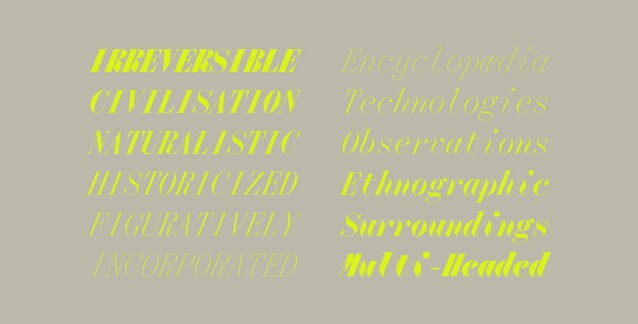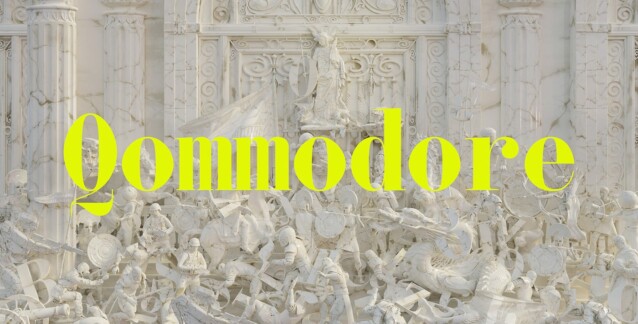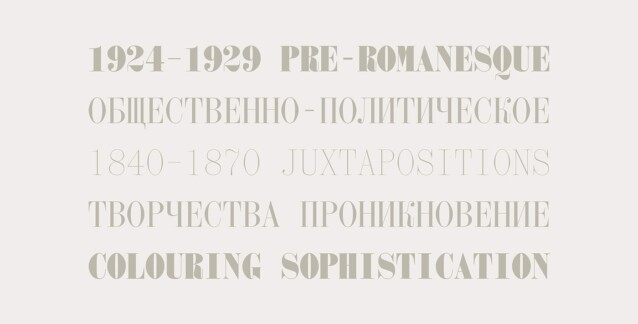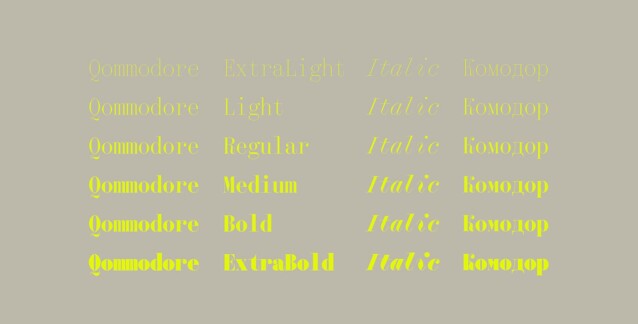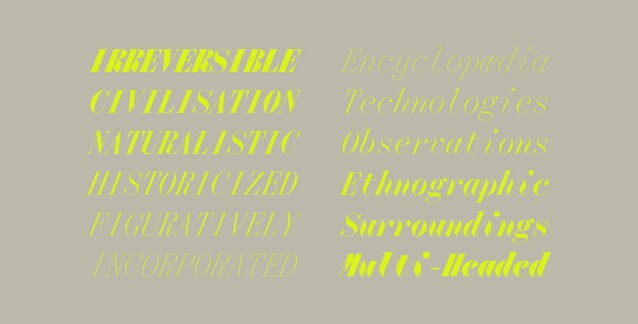 Qommodore Font is a unique serif font that has a distinctive serif shape. Born out of the creative encounter between Hugues Gentile and Jean-Baptiste Levée, Qommodore is the merger of their common interest for monospaced serif. Even its name introduces a wholly twisted operation that challenges convention at every turn. That makes it difficult to start at the beginning, because Qommodore is a high-contrast serif, drawn with the construction of 19th-century display types. But its proportions are monospace, forcing many of the natural widths of calligraphy, and the 19th century, out of the equation. Choosing the priority of which quality speaks first will come down to its use in graphic design.
There is a pervasive appreciation for high-contrast serifs, and Qommodore's delicate and detailed hairline strokes are no exception. Like most typefaces in this genre, Qommodore gains weight only in its thick strokes, and the hairlines stay hairlines throughout. Despite the ubiquity of the high-contrast category, however, Qommodore restricts any dated notions. Breaking with convention, for example, the typeface comprises six weights, beginning with a skeleton frame in ExtraLight that will feel wider than its bolder weights simply because the thicker strokes aren't prevalent. In ExtraBold, Qommodore is practically egregious in its contrast; because the font is monospace, the thick strokes borrow from the interior space, creating a dramatic and glitchy texture.
All-capitals titles will set beautifully as small as 60pt in ExtraLight and set a more traditional tone, with a narrow letter-fit and modern classic details. As you increase the weight, increase the scale, and drop the character count – it's the best way to maintain comfort in reading while enjoying all of the quirky details to make designs feel unique and beautiful, unless you're going for something with intentional tension.
That's precisely the opportunity this typeface invites designers to enjoy – an unpredictable mashup of details like the intricate serifs on lowercase t and the graceful ß, with spatial discordance increasing with weight. Despite this experiment in spacing, one thing Qommodore avoids is any clashing of characters, instead just threatening legibility. These moments where one would expect discomfort get literally shaved off, such as in the ExtraBold Italic, where the rounds of characters abruptly stay in their allotted space. In these most dramatic moments of Qommodore, designers can amplify short words and even single characters for applications in media covers like albums, podcasts, and books. Check out its eponymous Q, stifling bold W and Extra Bold m, and corseted R; conversely, the shapely lowercase a and even the delightful punctuation.
Qommodore Font is free for personal use. So, if you want to access more features and its full license contact Production Type designer
View all Glyphs
Qommodore-BoldItalic-TRIAL-BF654d9c985903a.otf
The quick brown fox jumps over the lazy dog
View all Glyphs
Qommodore-Bold-TRIAL-BF654d9c98e677f.otf
The quick brown fox jumps over the lazy dog
View all Glyphs
Qommodore-ExtraBoldItalic-TRIAL-BF654d9c9927f34.otf
The quick brown fox jumps over the lazy dog
View all Glyphs
Qommodore-ExtraBold-TRIAL-BF654d9c9930273.otf
The quick brown fox jumps over the lazy dog
View all Glyphs
Qommodore-ExtraLightItalic-TRIAL-BF654d9c9931660.otf
The quick brown fox jumps over the lazy dog
View all Glyphs
Qommodore-ExtraLight-TRIAL-BF654d9c991e6ac.otf
The quick brown fox jumps over the lazy dog
View all Glyphs
Qommodore-Italic-TRIAL-BF654d9c992df96.otf
The quick brown fox jumps over the lazy dog
View all Glyphs
Qommodore-LightItalic-TRIAL-BF654d9c993d218.otf
The quick brown fox jumps over the lazy dog
View all Glyphs
Qommodore-Light-TRIAL-BF654d9c993759b.otf
The quick brown fox jumps over the lazy dog
View all Glyphs
Qommodore-MediumItalic-TRIAL-BF654d9c993dcf2.otf
The quick brown fox jumps over the lazy dog
View all Glyphs
Qommodore-Medium-TRIAL-BF654d9c9934010.otf
The quick brown fox jumps over the lazy dog
View all Glyphs
Qommodore-Regular-TRIAL-BF654d9c991efaf.otf
The quick brown fox jumps over the lazy dog