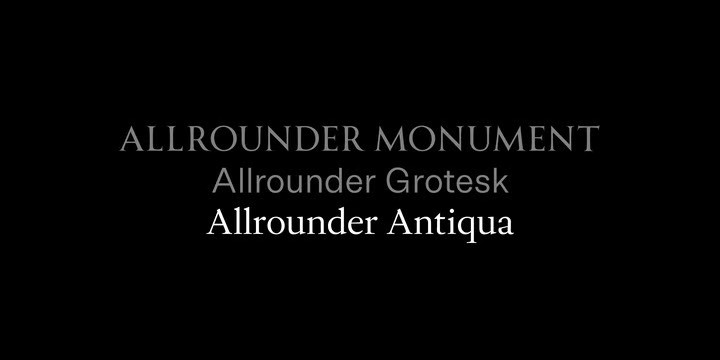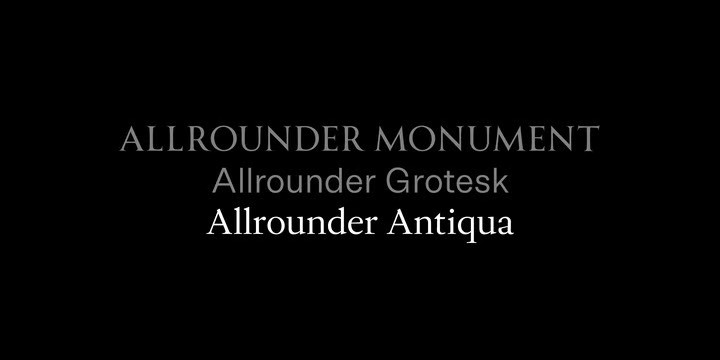 Allrounder Antiqua Serif Font is a font family in the serif style. A timeless typeface based on classical proportions, Allrounder Antiqua is perfectly suitable for advanced book and editorial design well as packaging and branding.
True: its main purpose is to set flawless body copy and to generate an evenly textured page—but its refined shapes work fantastically in display applications, too. Some details, such as the small and sharp bowl of the lowercase a, are fully appreciated in large sizes only. If you need a sophisticated serif typeface for packaging, food, fashion, consumer goods, or lifestyle branding, Allrounder Antiqua is up for it. It's also apt as an outstanding corporate typeface, be it for a more conservative venture or the latest hipster start-up.
This classy serif typeface comes in four weights with corresponding true italics. Just like its sans-serif counterpart, Allrounder Grotesk, Allrounder Antiqua is equipped with plenty of Opentype Features like small caps, six sets of figures, case-sensitive forms, superiors, fractions and many ligatures. You will find alternate letters with swashes within this extended character set, as well as all the accented glyphs necessary to support more than 200 Latin-based languages.
Allrounder Antiqua Serif Font is provided to you by Identity Letters. Free for personal, non-profit use. For commercial use you need to buy a license here 
View all Glyphs
AllrounderAntiquaTest-Bold.otf
The quick brown fox jumps over the lazy dog
View all Glyphs
AllrounderAntiquaTest-BoldItalic.otf
The quick brown fox jumps over the lazy dog
View all Glyphs
AllrounderAntiquaTest-Book.otf
The quick brown fox jumps over the lazy dog
View all Glyphs
AllrounderAntiquaTest-BookItalic.otf
The quick brown fox jumps over the lazy dog
View all Glyphs
AllrounderAntiquaTest-Medium.otf
The quick brown fox jumps over the lazy dog
View all Glyphs
AllrounderAntiquaTest-MediumItalic.otf
The quick brown fox jumps over the lazy dog
View all Glyphs
AllrounderAntiquaTest-Regular.otf
The quick brown fox jumps over the lazy dog
View all Glyphs
AllrounderAntiquaTest-RegularItalic.otf
The quick brown fox jumps over the lazy dog